What is sargassum? Huge blob of seaweed heading to Florida's coast
A giant blob of seaweed is floating toward the West Coast of Florida in the Gulf of Mexico. The mass is known as sargassum – what is it, and what happens as it reaches the coast?
What is sargassum?
Sargassum is a brown seaweed that floats in large masses, according to NOAA. The seaweed, which is a type of algae, never reaches the floor of the ocean because it has berry-like bubbles called pneumatocysts, which are filled with oxygen and make the mass buoyant.
When the blob of seaweed reaches the shore, another gas comes into play – hydrogen sulfide, according to Florida Health. This is produced as the seaweed rots, and smells like rotten eggs.
Inhaling hydrogen sulfide can make it harder to breathe, especially if you have a breathing condition like asthma. And while it can also irritate your eyes, nose and throat, it is not expected to cause long-term health effects if you encounter it on the beach, because the fresh air can dilute the gas.
What is happening in Florida?
A large amount of sargassum has been found in the Caribbean most years since 2011. The University of Florida's Optical Oceanography Lab began monitoring the sargassum each year, and they say this year, substantial quantities of sargassum in the Caribbean Sea continued to accumulate between January and February, even though it decreased in the Atlantic.
While the 2023 sargassum bloom isn't as large as originally expected, it will still be a major year for the algae and the lab expected it to continue increasing in the Caribbean Sea and Gulf of Mexico in March.
It is expected to travel west from the Caribbean Sea and become a hazard on some beaches in Florida.
NOAA's most recent report about the sargassum showed a high amount of it already on the coast of South Florida and a medium amount on the East Coast between February 14 and 20.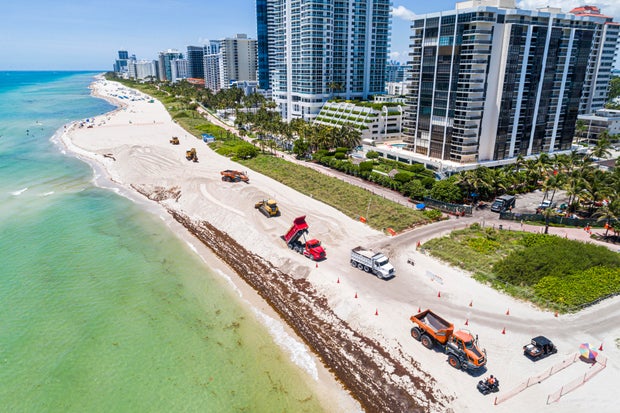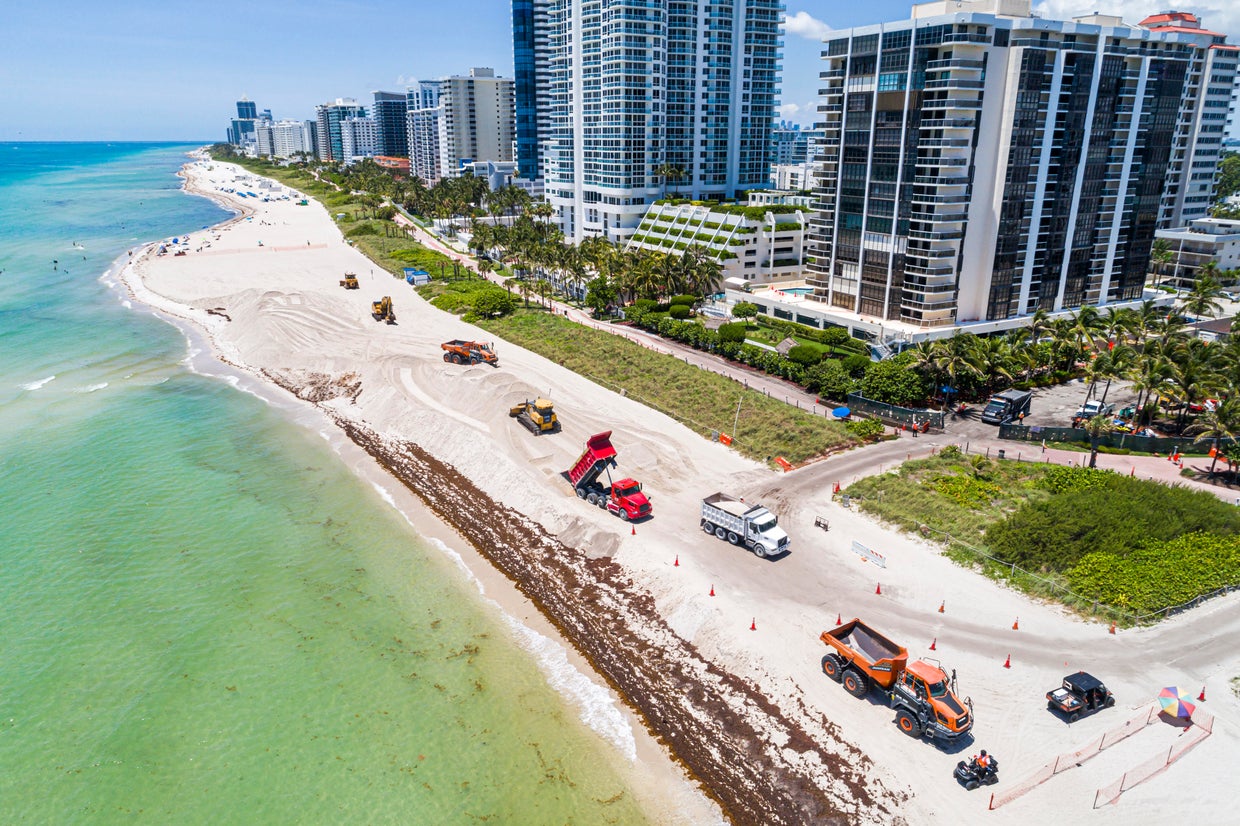 Caribbean islands like Jamaica, Dominican Republic and Puerto Rico also had high to medium amounts around their coast, while the coasts of Anguilla and Barbados appeared to be covered in high amounts of the seaweed. Some parts of South America and Mexico are also being affected.
Last year, large amounts of sargassum washed ashore on Florida beaches, such as Miami, in July, according to CBS Miami.
This year, images from Miami Beach show the brownish seaweed already creating a barrier between the sandy beach and the shoreline.
While it may be smelly, it actually helps many migratory sea creatures like turtles, crabs and fish, by providing a habitat, Florida Health says.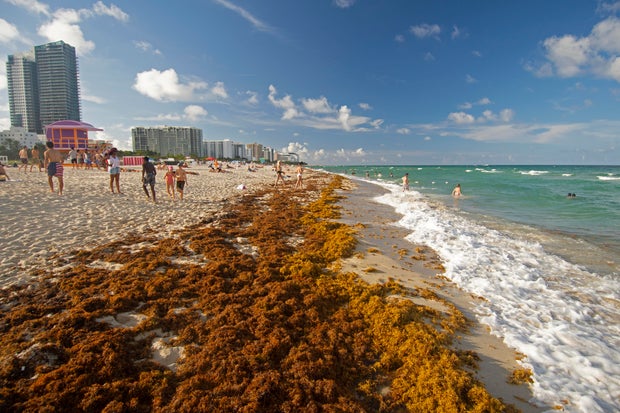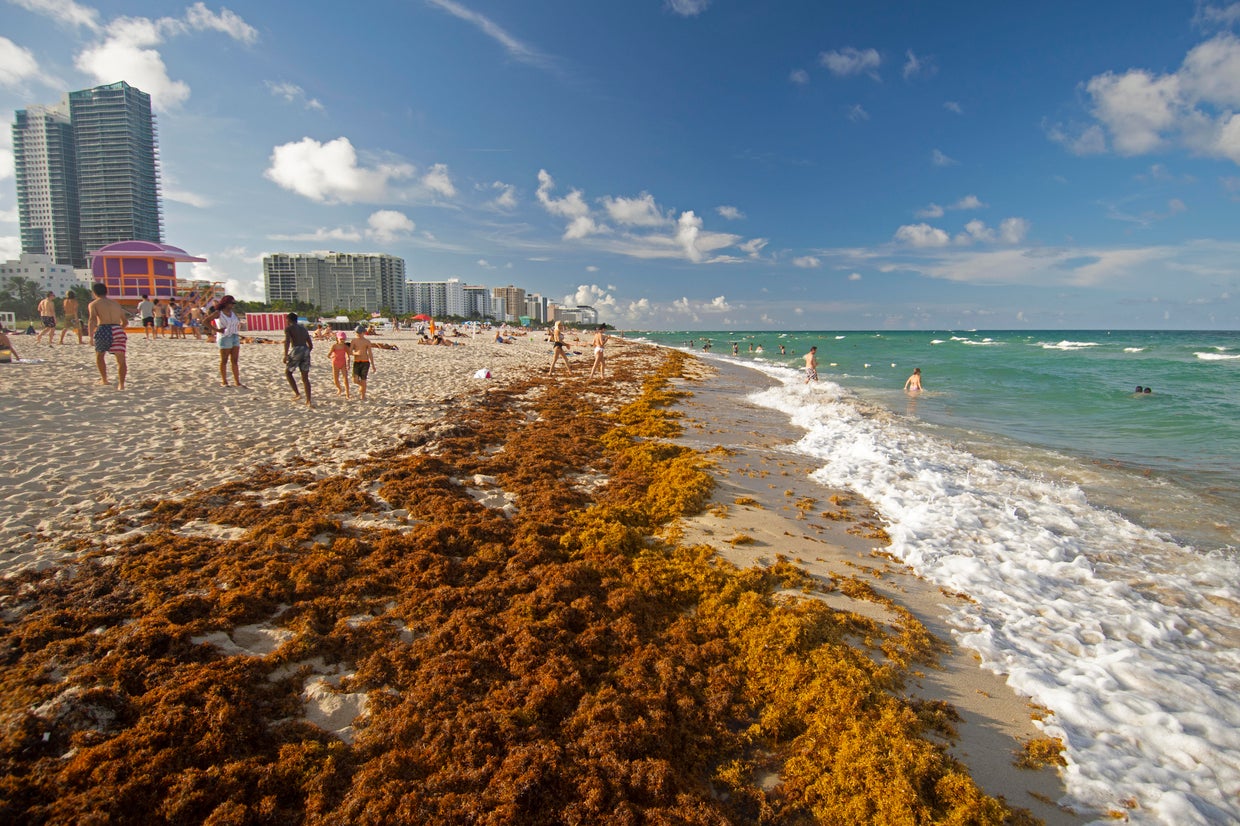 How to protect against sargassum
While the seaweed is rumored to cause cancer in humans, it can't, says Florida Health. However, the department does warn against eating it, as it may contain arsenic, cadmium and other heavy metals.
The department says children should always be supervised at the beach and beachgoers should avoid swimming near the seaweed. While touching the seaweed isn't harmful, animals like stinging jellyfish can live within it and hurt swimmers.
The department said people who handle the seaweed should still wear gloves. And those who experience breathing problems should avoid the beach or limit their time there, unless the symptoms stop. Closing the doors and windows of houses near the beach is also helpful.
Caitlin O'Kane is a digital content producer covering trending stories for CBS News and its good news brand, The Uplift.
Thanks for reading CBS NEWS.
Create your free account or log in
for more features.
I have been writing professionally for over 20 years and have a deep understanding of the psychological and emotional elements that affect people. I'm an experienced ghostwriter and editor, as well as an award-winning author of five novels.