What beginners should know about buying gold online
We may receive commissions from some links to products on this page. Promotions are subject to availability and retailer terms.
MoneyWatch: Managing Your Money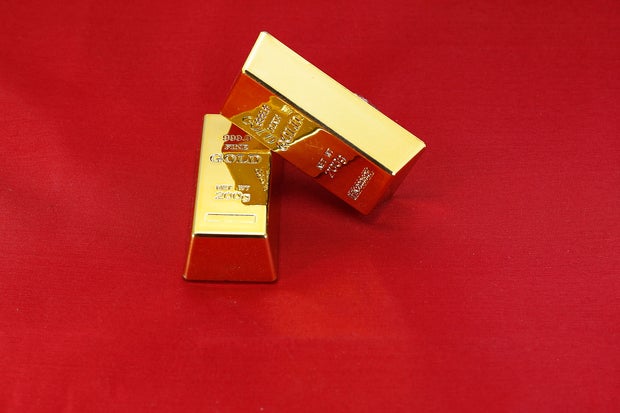 During times of economic or market volatility, many investors turn to gold as a way to offset risks from stocks and bonds. That's one reason why we saw so many investors turn to gold in recent years. But while investing in gold can be a great way to protect against losses while hedging against inflation and diversifying your portfolio, it can be challenging to get started.
That's especially true if you're buying gold online as a new investor. Technology has helped to greatly advance the online options for buying and selling this precious metal. While online gold buying is one of the most convenient methods, these advances have made it slightly tricky to navigate, especially for beginners.
If you want to ensure a safe and successful investing experience, it's important to know what to expect when buying gold online.
Want to find out more about investing in gold? Learn more with this free information kit.
What beginners should know about buying gold online
Here are four important things beginners should know about buying gold online.
There are several options to choose from
There are numerous options available to investors who want to buy gold online. The online gold market offers a range of options for paper gold investing, from gold exchange-traded funds (ETFs) to gold individual retirement accounts (IRAs) and gold-related stocks, like stocks for precious metal mining companies.
But you aren't limited to just gold ETFs and IRAs when buying gold online. There are also plenty of options for buying physical gold bars and coins on the web. Make sure you understand the difference between physical gold (coins, bars, and jewelry) and paper gold (ETFs, futures, and gold certificates), know the potential pros and cons of each and be sure to do your research on what the current trends are, too.
As you learn more about the options you have for online gold buying, you'll be better prepared to narrow down the gold investing options to the ones that make sense for you.
Not all sellers are trustworthy
One of the primary concerns when purchasing gold online is ensuring its authenticity. Some unscrupulous sellers will push fake or low-quality physical gold at inflated prices, and they tend to target new investors who don't know the market well enough to make an educated decision. Avoid these types of red flags.
If you're buying physical gold online, your best bet for buying high-quality gold is to look for well-established, reputable sellers with lots of positive customer reviews and ratings. Be sure to also research the seller's background, check their credentials (and their time in the industry) and find out whether they're affiliated with recognized industry organizations. Reputable sellers will also provide certificates of authenticity or third-party verification to confirm the purity and quality of the gold being sold.
You should do your best to avoid dealing with sellers who have limited information or unclear terms and conditions. And, no matter how good the deal may seem, always avoid buying gold from sources that do not provide any form of authentication.
Pricing and premiums can vary
The price of physical gold and the premiums charged by sellers can also vary, sometimes drastically, from one seller to the next. The spot price of gold is its current market value, but sellers will often tack on premiums on top of the spot price.
Some of these premiums are legitimate. For example, different gold products may have varying premiums due to factors like production costs and demand. But there's also a chance that you're being charged unnecessary fees in addition to the legitimate premiums, so be sure to compare prices from multiple reputable sellers to ensure you get the best deal.
So can the storage and security options
If you're buying physical gold, like gold bars or coins, online, you'll need to have a secure storage method once it arrives. Many online sellers will offer storage services for a fee, while others may recommend third-party vaults instead. You can also choose to store the gold yourself in a secure location, like a home safe or a bank safety deposit box.
Before you purchase any physical gold online, though, it's important to know what the associated storage and security costs and options are. What may look like a good deal could ultimately end up being more costly than expected due to the additional charges, so doing the math beforehand can help you avoid these types of issues.
The bottom line
Buying gold online can be a rewarding investment if done with caution and research, even if you're new to the market. Beginners should take the time to understand the different types of gold, know how to verify the authenticity of the product and understand how to choose reputable sellers. Comparing prices and considering storage and insurance options are also crucial steps to ensure a successful online gold buying experience. Remember, knowledge is your greatest asset when venturing into the world of gold investment. Find out more information with a free information kit from Goldco.
Thanks for reading CBS NEWS.
Create your free account or log in
for more features.
I have been writing professionally for over 20 years and have a deep understanding of the psychological and emotional elements that affect people. I'm an experienced ghostwriter and editor, as well as an award-winning author of five novels.