Watch Live: President Biden comments on Maui wildfires
President Biden said Tuesday that he and first lady Jill Biden are working on traveling to Hawaii "as soon as we can" to assess the damage from the state's devastating wildfires that have left at least 101 dead and destroyed the historic town of Lahaina on the island of Maui.
"The deadliest wildfire in more than a hundred years," Mr. Biden said Tuesday at an event in Milwaukee. "A whole city destroyed. Generations of native Hawaiian history turned into ruin."
Deputy press secretary Olivia Dalton said earlier Tuesday that the White House was having "active conversations" about when the Bidens could visit. More than 1,000 people still remain unaccounted for in Maui.
The president noted that he had approved Hawaii Gov. Josh Green's request for a federal disaster declaration, and that 500 federal personnel had been deployed to Hawaii. Mr. Biden said he had spoken to Green and FEMA Administrator Deanne Criswell.
"My wife Jill and I are going to travel to Hawaii as soon as we can. That's what I've been talking to the governor about," he said. "I don't want to get in the way, I've been to too many disaster areas, but I want to go and make sure they get everything they need. I want to be sure we don't disrupt the ongoing recovery efforts."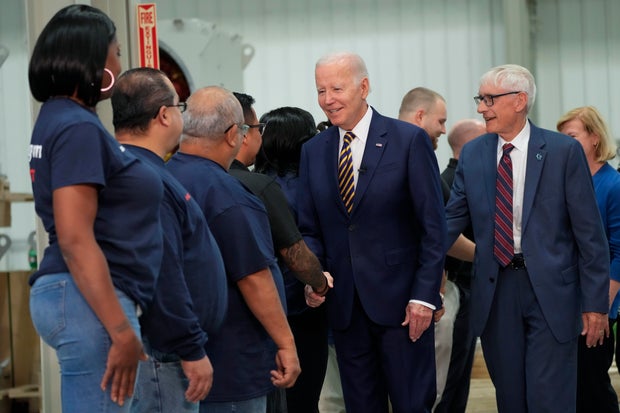 Mr. Biden said he had directed Criswell to streamline the process, and FEMA had so far approved 50,000 meals, 75,000 liters of water, 500 beds, 10,000 blankets and other shelter supplies to survivors. He said FEMA had also authorized one-time payments of up to $700 per household for residents who have been displaced.
The president said he had authorized "all available federal assets" to assist local crews, including the U.S. Coast Guard, the Navy's Third Fleet and the U.S. Army.
"Every asset they need will be there for them and we will be there in Maui as long as it takes," Mr. Biden said.
Last week, he approved the federal disaster declaration, clearing the way for federal funding to be provided to people on the island affected by the fires.
In Milwaukee, he toured Ingeteam, Inc., a clean energy company, and talked about his economic plan. He was set to return to the White House later in the day.
Green said Monday that search crews could recover "10 to 20 people" a day going forward, and Maui County Police Chief John Pelletier said that 25% of the area had been searched as of Monday night.
While much of the focus has been on Lahaina, fires continue to burn in the Upcountry region of Maui. In the Upcountry town of Kula, located just 25 miles east of the Lahaina disaster, firefighters on Tuesday were battling smaller blazes that have ravaged approximately 700 acres and claimed 19 homes.
Thanks for reading CBS NEWS.
Create your free account or log in
for more features.
I have been writing professionally for over 20 years and have a deep understanding of the psychological and emotional elements that affect people. I'm an experienced ghostwriter and editor, as well as an award-winning author of five novels.