U.S. to restart deportations to Venezuela to reduce border arrivals
Washington — The Biden administration is restarting direct deportations to Venezuela in an attempt to reduce unlawful crossings along the southern border by Venezuelan migrants, who have journeyed to the U.S. in record numbers in recent weeks, federal officials announced Thursday.
For years, the U.S. did not carry out regular deportations to Venezuela due to its strained diplomatic relationship with that country's socialist government, which faces U.S. sanctions due to its human rights abuses and repressive policies. But officials now plan to resume direct deportations there to send back Venezuelans who enter the U.S. unlawfully and lack a legal basis to remain in the country. CBS News first reported the announcement earlier Thursday.
In a statement, the Department of Homeland Security said the Venezuelan government had agreed to accept the return of its citizens, though it did not disclose how frequently the deportation flights would take place. A senior administration official who briefed reporters said the U.S. had already identified Venezuelans in federal custody "who will be removed promptly in the coming days."
"Today's announcement makes clear that we are committed to strictly enforcing immigration laws and quickly removing individuals who do not avail themselves of these orderly processes and choose to cross our border unlawfully," DHS added in its statement.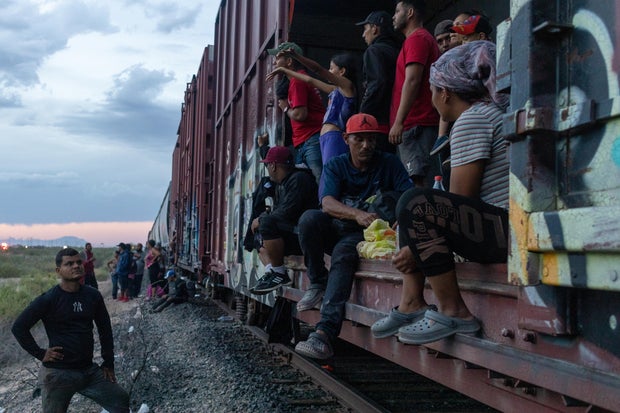 A sharp increase in Venezuelan arrivals
The shift in policy is designed to slow down an unprecedented flow of U.S.-bound migration from crisis-stricken Venezuela and other countries hosting millions of displaced Venezuelans, including Colombia, Ecuador and Peru.
In September, approximately 50,000 Venezuelans crossed the U.S. southern border without authorization, an all-time record that fueled a yearly high in migrant apprehensions that month, according to internal federal data obtained by CBS News. That represented roughly a quarter of all Border Patrol apprehensions in September.
While the resumption of deportations to Venezuela may deter some Venezuelans from trekking to the U.S. border, it's likely to prompt objections from human rights advocates and progressive Democrats, due to the deteriorating economic and political situation in the South American country.
The economic and societal collapse in Venezuela under its authoritarian government has triggered the largest migrant exodus ever recorded in the Western Hemisphere. More than 7 million people have left the country in recent years, a tally that now eclipses the number of externally displaced refugees from war-torn Syria and Ukraine.
Increasingly, Venezuelans have left countries hosting them in South America or Venezuela itself to embark on a week-long journey to the U.S. that includes crossing Panama's Darién Gap on foot. More than 400,000 migrants, most of them from Venezuela, have crossed that roadless jungle this year, a record.
A policy shift
The Biden administration has been trying to dissuade Venezuelan migrants from crossing the U.S. border illegally over the past few years, with varying degrees of success. A strategy that includes returning those who entered the country illegally to Mexico while expanding legal migration programs for Venezuelans initially led to a dramatic drop in illegal border entries. But the low number of unlawful border entries by Venezuelans only lasted for a few months.
During the briefing on Thursday, administration officials urged Venezuelans to wait for an opportunity to enter the U.S. legally, either through a program for those with American sponsors or an app that allows migrants in Mexico to be processed at official ports of entry. Otherwise, officials warned, they would face deportation to Mexico or Venezuela.
The officials said the U.S. would not deport Venezuelans who prove they could be persecuted if returned to Venezuela. Deportation efforts will focus on those who arrived after July 31, the cut-off date for the Temporary Protected Status (TPS) program the administration expanded last month to offer work permits to nearly half a million Venezuelans already in the U.S., the officials added.
At the time, DHS said the crisis in Venezuela prevented the U.S. from "safely" deporting people there. Asked if Thursday's move was inconsistent with last month's announcement, an administration official said the U.S. has long deported migrants to countries with a TPS designation.
Officials did not elaborate on how they convinced Venezuela to accept these deportations. Asked about whether the U.S. was considering loosening some sanctions, an official said the administration would only do so if the Venezuelan government takes "concrete steps" towards a "democratic solution."
"At this time, those steps have not yet been taken and we continue to enforce our sanctions," the official said.
Thanks for reading CBS NEWS.
Create your free account or log in
for more features.
I have been writing professionally for over 20 years and have a deep understanding of the psychological and emotional elements that affect people. I'm an experienced ghostwriter and editor, as well as an award-winning author of five novels.