Tony Bennett, Grammy-winning singer loved by generations, dies at age 96
Singer Tony Bennett, whose joyful and stirring renditions of such classics as "Rags to Riches," "The Way You Look Tonight," and his signature song, "I Left My Heart in San Francisco," made him one of the most popular interpreters of jazz, pop and Broadway standards, died Friday in New York City, his rep confirmed to CBS News. He was 96.
A cause of death wasn't provided. Bennett was diagnosed with Alzheimer's disease in 2016, and his last public concerts were held with Lady Gaga at New York's Radio City Music Hall in celebration of his 95th birthday in 2021.
The winner of 19 Grammy Awards during his seven-decade career, Bennett recorded 60 studio albums and dozens of live albums and compilations. Seven were Top 10 albums on the Billboard charts.
But he was inextricably linked to one song above all others — a song that he first rehearsed without ever having set foot in San Francisco.
Bennett recalled for "Sunday Morning" in 2014 how his music director, Ralph Sharon, found the song as they were headed to San Francisco for the first time. The two rehearsed it one afternoon at a nightclub in Little Rock, Arkansas: "And the bartender said, 'I don't wanna interrupt you two fellows, but if you ever record that, I'm gonna be the first guy to buy the record.' And we felt a little encouraged! And when I got to San Francisco, at rehearsal I started singing it, everybody ran up to me and said, 'You've gotta record this song.'"
"I Left My Heart in San Francisco" was actually released as the B-side of Bennett's 1962 record, "Once Upon a Time." But it was that B-side that would win the Grammy for record of the year, and earn Bennett a Grammy for his performance. It became his signature tune.
"Most artists that are connected with one famous thing, they get upset: Why should it just be one thing? What about all the other things that I do?" Bennett told "Sunday Morning." "But I feel different. I love 'San Francisco,' the song. I sing it every night like it was the first time I ever sang it."
He would even sing it during a 1994 appearance on "MTV Unplugged," in which he performed with Elvis Costello and k.d. lang. A recording of the concert went platinum and won two Grammys, including album of the year.
Bennett's durability as a performer was not just attributed to his spectacular set of pipes; he also took the stage with a remarkable joy for sharing the Great American Songbook — works by George and Ira Gershwin, E.Y. Yarburg, Irving Berlin, Cole Porter, Duke Ellington and Johnny Mercer.
"The best in the business"
Bennett recalled advice Frank Sinatra gave him back in 1956, when the young singer visited the Chairman of the Board backstage at the Paramount Theatre. Bennett had had early success, and an offer to do a summer replacement TV show. "I had never met him. When I got in his dressing room, he said, 'What's it all about, kid?' He kept calling me kid his whole life! I said to him, 'I'm completely nervous. I'm going on network television. And I'm frightened.' And he gave me the best device: 'If people see that you're frightened, they're gonna come up closer and help you even more.'
"And he changed my whole attitude. The public is not an enemy. They're your friends. You perform for them, and the more you perform for them, the more they go for it. He taught me how to perform just with that one sentence."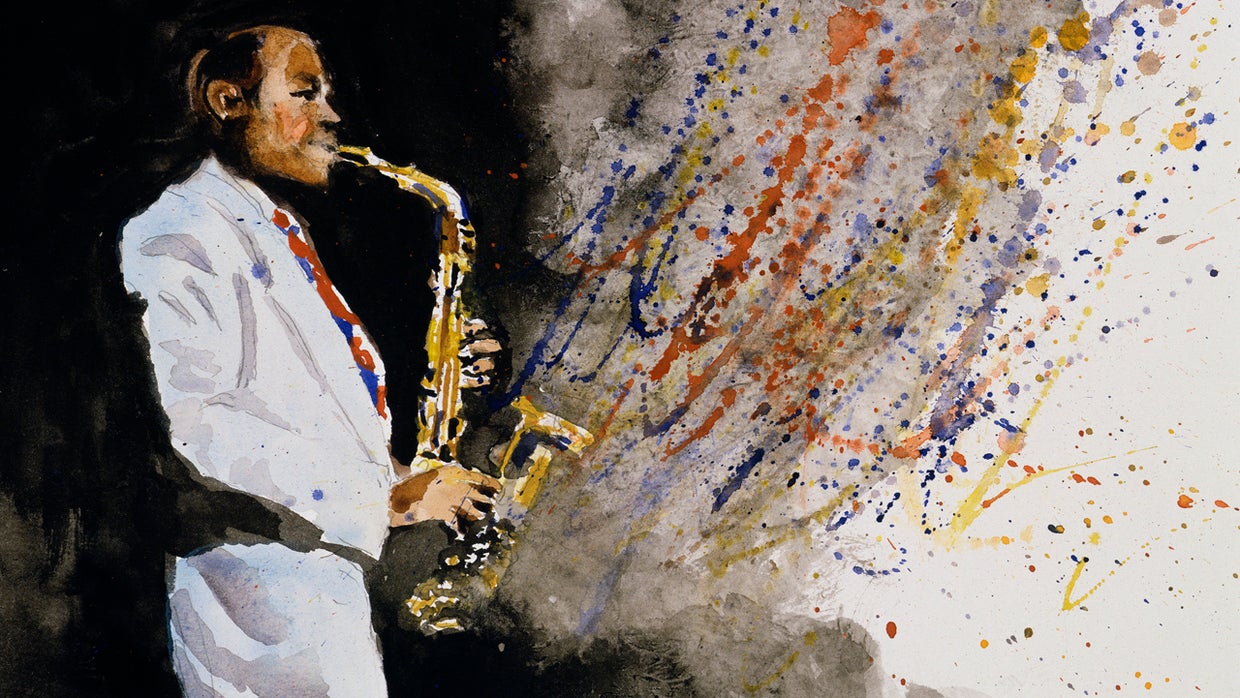 Bennett credited Sinatra with boosting his profile after he was quoted in a 1965 Life magazine interview saying, "For my money, Tony Bennett's the best in the business."
"He changed my career," Bennett told "Sunday Morning." "All of his fans wanted to find out about what he was talking about. And from that day on, I've been sold out everywhere in the world."
Bennett earned a new generation of fans in 2014 when, at 88, he teamed with singer Lady Gaga — 60 years his junior — for an album of duets, "Cheek to Cheek," featuring standards that included "Anything Goes," "I Can't Give You Anything But Love," "Let's Face the Music and Dance," and "It Don't Mean a Thing (If It Ain't Got That Swing)." The album went to No. 1 and won the Grammy for best traditional pop vocal album.
In 2015, the pair toured in Europe and North America. Bennett would record a second album with Lady Gaga, "Love for Sale," and another collection of duets with Diana Krall, "Love Is Here to Stay."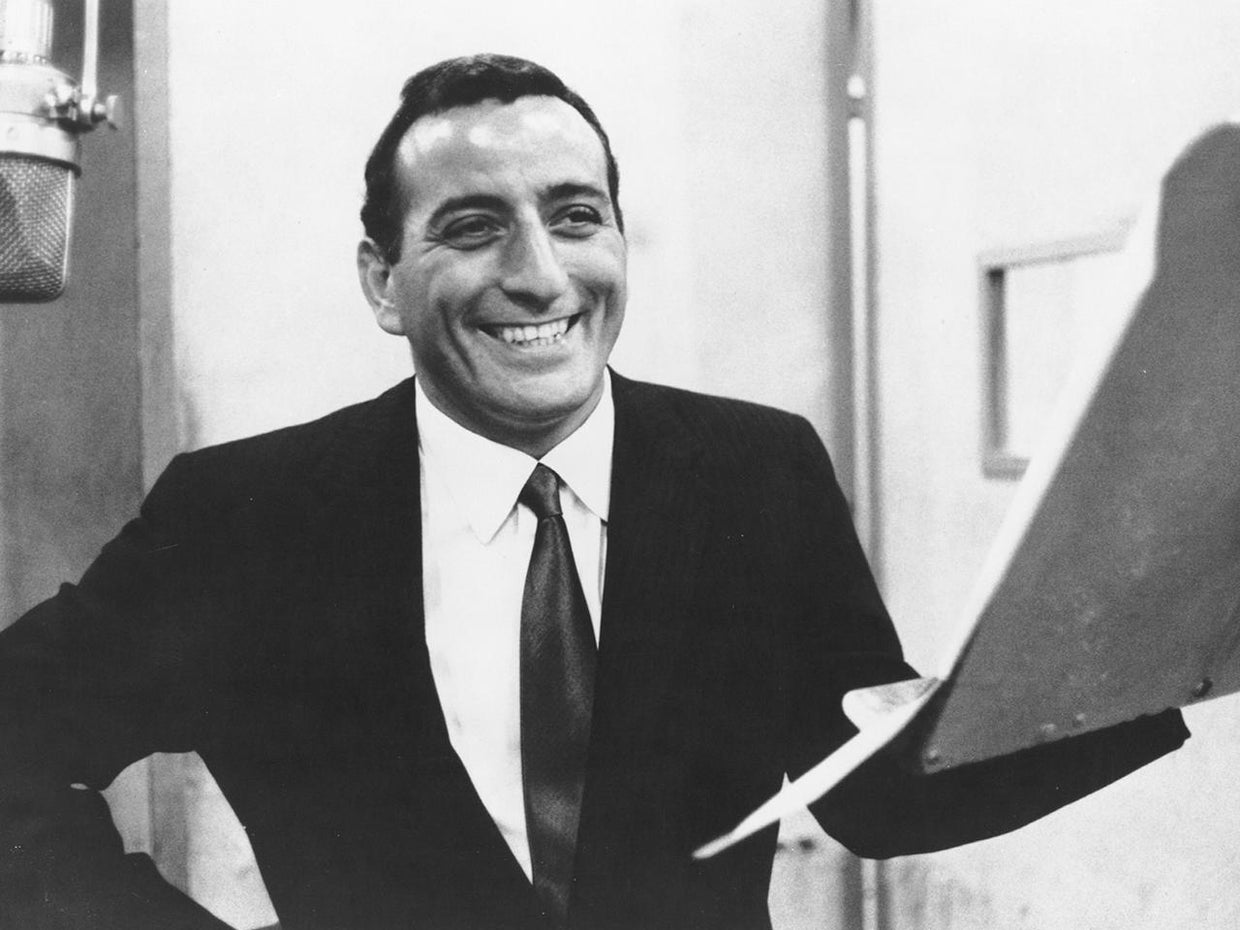 Queens boy
Born on New York's Long Island on August 3, 1926, Anthony Dominick Benedetto was raised in Astoria, Queens, growing up in poverty after his father became seriously ill and was unable to work. John Benedetto died when Anthony was 10. His mother, Anna, worked as a seamstress.
As a young student, Bennett nurtured artistic expression both through music and art. "All my relatives said, 'We love the way you sing, and we like the way you paint,'" Bennett told "Sunday Morning" in 2014. "So, it created a passion in me to sing and paint."
At the High School of Industrial Art in Manhattan, he recalled one art teacher telling him, "'You know, you're a very good singer.' And he got all the other teachers mad at him, 'cause [I'm] supposed to be studying art, not music!"
He dropped out of school to help support his family, earning money while singing in restaurants and saloons. After World War II, thanks to the GI Bill, Bennett attended the American Theatre Wing, taking vocal classes. He launched a staggeringly successful singing career. But painting was never far behind. "And to this day, every day, I study music and art. And I love it."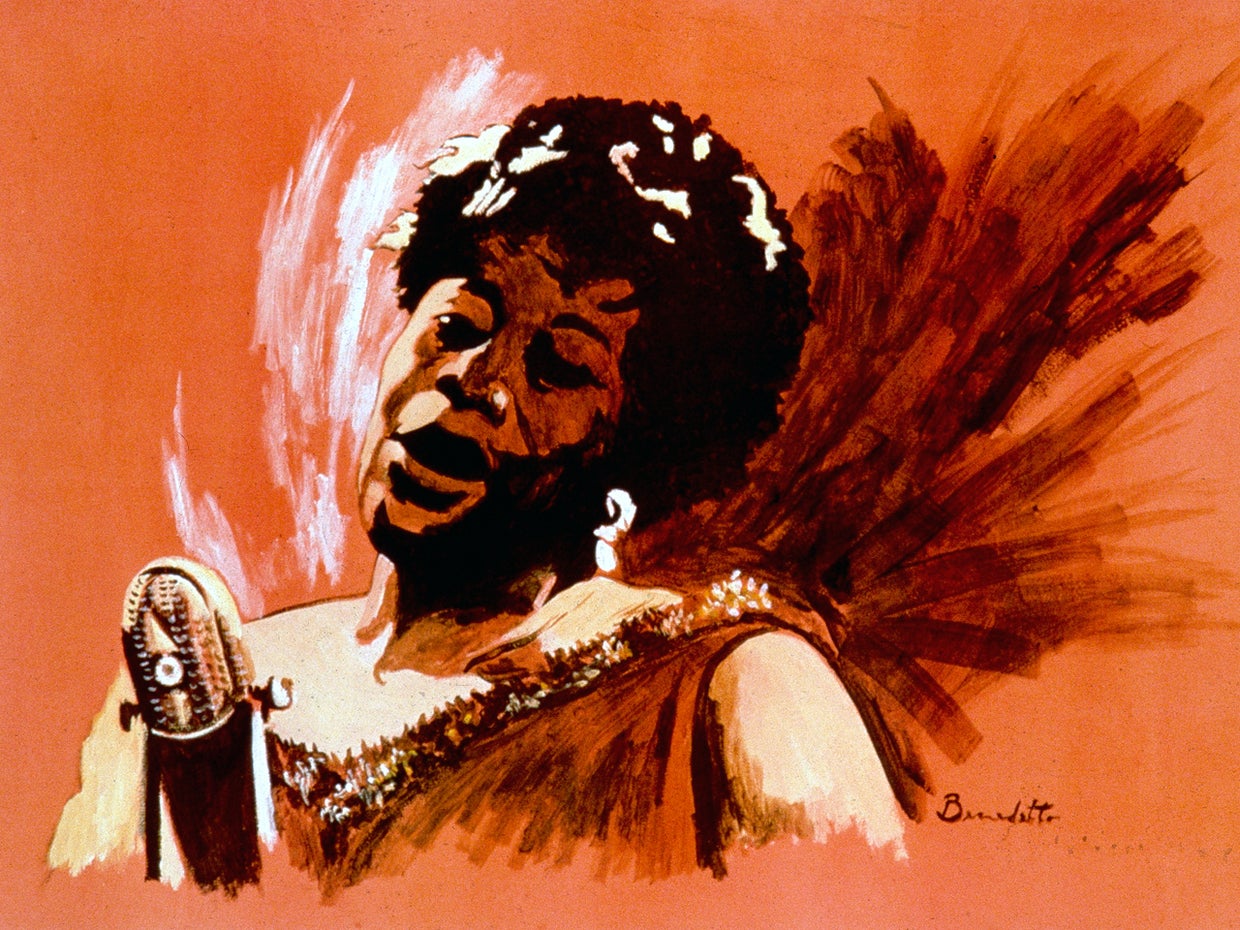 "It's great to have two things that you love, to be able to go back and forth between," said CBS News' Anthony Mason.
"I'm gettin' away with it!" Bennett laughed.
"Rags to Riches"
Singer Pearl Bailey asked Bennett to open for him while performing at New York's Greenwich Village. It was there he caught the eye and ear of Bob Hope, who suggested to Anthony Benedetto he shorten his stage name, to Tony Bennett.
Signed by Columbia, Bennett's first single, "Because of You," went to No. 1 in 1951. He followed with such hits as "Cold, Cold Heart," "Rags to Riches," "There'll Be No Teardrops Tonight," "Stranger in Paradise," and "Can You Find It In Your Heart?"
His 1957 album, "The Beat of My Heart," marked the beginning of Bennett's collaboration with jazz pianist and arranger Ralph Sharon, and a change of direction for Bennett, from the lushly orchestral accompaniments of songs like "Rags to Riches" to a more percussive style. With musicians like Art Blakey, Chico Hamilton, Herbie Mann, Billy Exiner, and the Cuban bongo player Candido joining him on the record, songs like "Lullaby of Broadway," "Crazy Rhythm," and "Just One of Those Things" were closer in style to the swinging jazz of Ella Fitzgerald.
Later hits by Bennett included "The Good Life," "Who Can I Turn To (When Nobody Needs Me)," "Fly Me to the Moon," "The Shadow of Your Smile," and "For Once In My Life."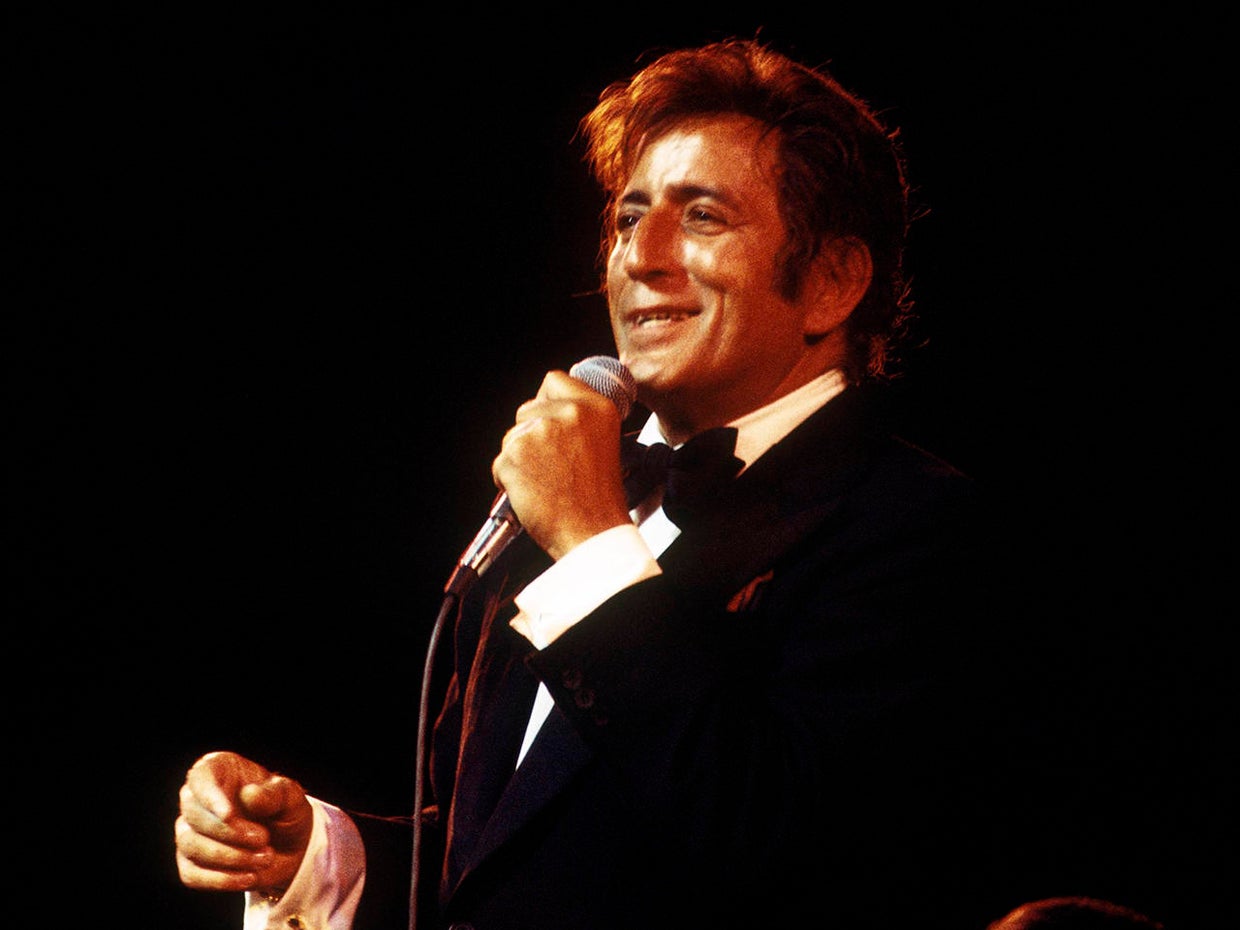 The comeback
Bennett struggled in the 1970s, as musical tastes in the industry changed, and his albums didn't find an audience. He was without a manager or a recording label. His own record company failed. His live performances were limited to Las Vegas. Having divorced his first wife, his second marriage was faltering. He had a drug addiction, and the IRS initiated proceedings to take his house.
Bennett's son, Danny, took over as manager, and got him re-signed with Columbia Records; he also got his father on "MTV Unplugged." "I realized that young people had never heard those songs," Tony told AARP magazine. "Cole Porter, Gershwin – they were like, 'Who wrote that?'"
In the 1990s, Bennett's albums "Perfectly Frank" (a tribute to Frank Sinatra) and "Steppin' Out" (a tribute to Fred Astaire) both went gold. "Here's to the Ladies" and "Tony Bennett on Holiday" both hit No. 1 on the Billboard jazz charts.
Beginning in 2001, Bennett released a series of recordings of duets, demonstrating the reverence with which others in the pop, rock and country genres regarded him. On "Playin' With My Friends: Bennett Sings the Blues" he was joined by such artists as Diana Krall, Stevie Wonder, B.B. King, Bonnie Raitt, Billy Joel and Ray Charles.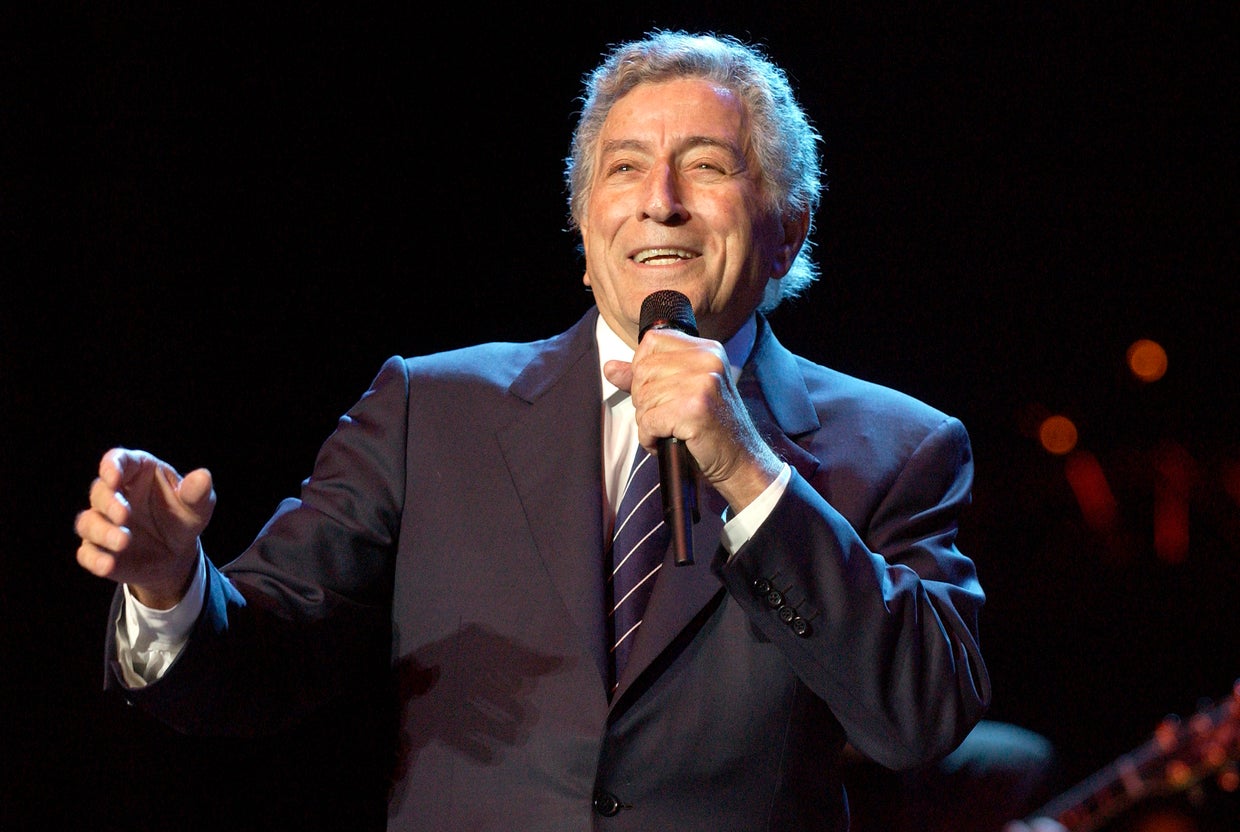 Bennett recorded "A Wonderful World" with k.d. lang, and in 2006 released the album "Duets: An American Classic," featuring Barbra Streisand, Paul McCartney, Elton John, Michael Bublé, Celine Dion, Tim McGraw and Sting.
A follow-up "Duets" album, in 2011, paired Bennett with Amy Winehouse, Lady Gaga, Aretha Franklin, Sheryl Crow, Willie Nelson, Josh Groban and Mariah Carey. It debuted at No. 1 on the Billboard charts.
The pandemic took him off the road. But like many artists during COVID, Bennett recorded performances to share on YouTube.
Legendary showman
In early 2021 Bennett revealed in an AARP magazine article that he had Alzheimer's disease.
He still rehearsed twice a week in his living room. And in August 2021 he performed what would be his final concert, at New York's Radio City Music Hall, sharing the stage with Lady Gaga. His family wasn't sure he would be in condition to perform, but when it came time to rehearse, Bennett's accompanist, Lee Musiker, began playing, and suddenly the legendary showman was back.
He had no notes, no cue cards. He sang an hourlong set from memory.
On what was Bennett's 95th birthday, a sellout crowd was waiting. His wife, Susan, told "60 Minutes," "Once he saw the audience, and, you know, and he raises his hands, I knew we were all right because he became himself. He just turned on. You know, it was like a light switch."
Bennett sang more than a dozen songs and got at least 20 standing ovations.
A few days later, Bennett had no memory of playing Radio City at all.
Along with Susan, his third wife, Bennett is survived by four children — Danny; Dae, a music producer and engineer; Johanna; and Antonia, a singer — and nine grandchildren.
Thanks for reading CBS NEWS.
Create your free account or log in
for more features.
I have been writing professionally for over 20 years and have a deep understanding of the psychological and emotional elements that affect people. I'm an experienced ghostwriter and editor, as well as an award-winning author of five novels.