Thousands of Las Vegas hospitality workers vote to authorize strike
Las Vegas — Sin City is known for its extravagance. But behind the scenes are the tens of thousands who cook the meals, mix the drinks and clean the suites.
On Tuesday, they filled the Thomas & Mack Center at the University of Nevada, Las Vegas, where members of both the Culinary Workers Union and its sister union, the Bartenders Union, voted by a 95% margin in favor of authorizing a strike if a new five-year labor deal is not reached.
The strike authorization applies to about 40,000 of the 60,000 members who make up the Culinary Workers and Bartenders unions across Nevada, the organizations said in a news release.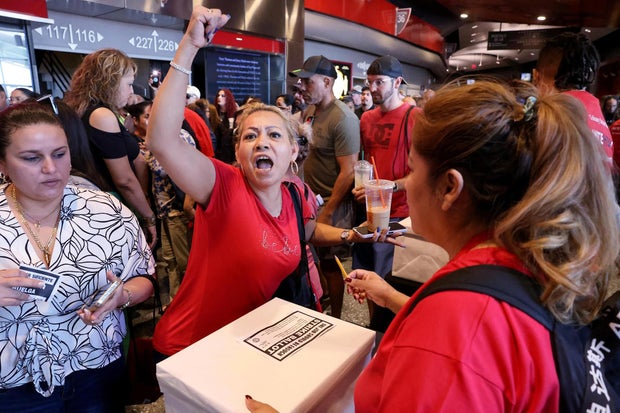 If a strike were to happen, it would impact 22 casinos on the Las Vegas Strip.
"They don't care about us," housekeeper Norma Quinones told CBS News. "All they care about is making their own money, making the companies rich."
Among their demands are significant wage increases, reduced workloads and more on-the-job safety protections, including expanding the use of safety buttons for workers in the event of criminal behavior by customers. They also want protections against company tracking technology.
"Rents being jacked up through the roof," said Ted Pappageorge, secretary-treasurer of the Culinary Workers Union. "…The cost of gas, the cost of groceries, the cost of electricity. So folks need a raise."
Three major hotel chains are negotiating with the unions. Talks are scheduled for next week.
MGM Resorts told CBS News in a statement Wednesday that it has a "decades-long history of bargaining successfully with the Las Vegas Culinary & Bartenders Unions. We continue to have productive meetings with the union and believe both parties are committed to negotiating a contract that is good for everyone."
Wynn Resorts said in a statement that it "has historically had a positive and cordial working relationship with labor unions and has always reached satisfactory agreements with each," calling its employees "the heart and soul of Wynn."
Wynn added that it would "continue to work" with the two unions "to reach an agreement that provides our employees with competitive wages and benefits, in a work environment that matches our high standards."
Caesars Entertainment did not immediately respond to a request for comment.
It has been the summer of strikes for American labor, and as yet another possible walkout looms, one has officially ended. The Writers Guild of America reached a tentative deal with Hollywood studios on Sunday, ending a strike that began in early May. It authorized its members to report back to work Wednesday.
Comedian Bill Maher announced his HBO show "Real Time" will return on Friday, and late-night talk shows will likely begin to return next week.
The new WGA deal includes wage increases, minimum staffing requirements on television shows, more transparent protocols for determining streaming residuals, and protections against the use of artificial intelligence.
The Screen Actors Guild's approximately 65,000 members have also been on strike since mid-July. On Wednesday evening, SAG-AFTRA announced that it would resume negotiations with the Alliance of Motion Picture and Television Producers, the group that represents the major studios, on Oct. 2.
United Auto Workers began a strike Sept. 15 against the Big Three automakers — Ford, General Motors and Stellantis — with President Biden joining workers on the picket lines Tuesday in Detroit. So far, about 20,000 of the UAW's 150,000 members have walked off the job across 20 states.
Thanks for reading CBS NEWS.
Create your free account or log in
for more features.
I have been writing professionally for over 20 years and have a deep understanding of the psychological and emotional elements that affect people. I'm an experienced ghostwriter and editor, as well as an award-winning author of five novels.