Suspect in Paul Pelosi attack charged with federal counts of assault and attempted kidnapping
The man accused of attacking House Speaker Nancy Pelosi's husband Paul is being charged with attempted murder, residential burglary, assault with a deadly weapon, elder abuse, false imprisonment of an elder, and threats to a public official and their family, San Francisco District Attorney Brooke Jenkins announced in a Monday press conference.
David Wayne DePape was also charged Monday with federal counts of assault on the immediate family member of a federal official and attempted kidnapping of a federal official.
Jenkins said they "do believe" DePape intended to murder Mr. Pelosi, and that his actions were politically motivated. Jenkins stated that it was clear from the evidence so far that DePape targeted the speaker and this house.
" As citizens and leaders, it is our responsibility to be careful what we say and to reduce the volume of our political rhetoric," Jenkins stated. Jenkins stated, "We should all be able engage in passionate political discourse but still respect one another." Violence is not allowed in San Francisco or in politics.
DePape is scheduled to be arranged in court in San Francisco on Tuesday afternoon.
The 42-year-old suspect was booked Friday on charges of attempted homicide, assault with a deadly weapon, burglary, elder abuse and several other felony offenses.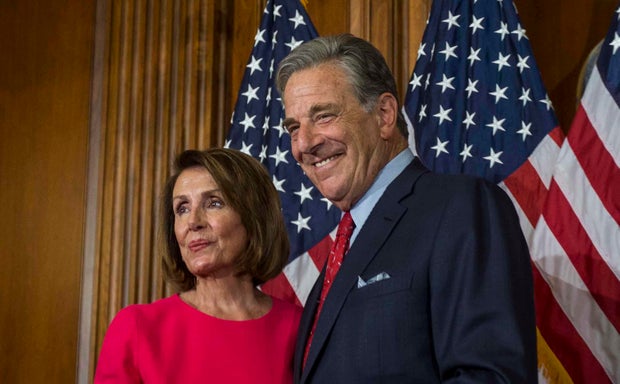 According to Jenkins, the San Francisco district attorney, the suspect targeted the Pelosi home to confront the Speaker. The suspect allegedly made his way through the rear glass door and reached the second floor, where Paul Pelosi was asleep. Jenkins stated that the suspect woke Paul Pelosi up wearing a pajama top and boxer shorts and asked him about his wife.
Paul Pelosi tried to get into the elevator of the home, Jenkins said, and he asked to go to the bathroom, where he made a 911 phone call. Jenkins stated that the defendant realized that Paul Pelosi had called him. Jenkins stated that two officers arrived quickly and discovered the defendant was carrying a hammer. The defendant then allegedly pulled out a hammer and struck Pelosi.
The FBI filed an affidavit in the federal case against DePape stating that they responded to the Pelosi home and found zip ties in Pelosi's bedroom and hallway.
"Law enforcement also searched DEPAPE's backpack at the Pelosi home and found, among other items, a roll and white rope, one pair rubber and cloth gloves, as well as a journal.
"Pelosi stated he had never seen DEPAPE before," the affidavit also says.
According to the court documents, DePape told San Francisco police after his arrest that, "If Nancy [Pelosi] were to tell DEPAPE the 'truth,' he would let her go, and if she 'lied,' he was going to break 'her kneecaps'" so that she would have to be wheeled into Congress.
DePape had a list of people he wanted to target, law enforcement sources briefed on the investigation have told CBS News. Sources claimed that he could have planned to attack more people if he hadn't been arrested for assaulting Pelosi.
Last week, Paul Pelosi underwent what the speaker's office described as a "successful surgery to repair a skull fracture and serious injuries to his right arm and hands." The speaker's office did not provide any further updates this week.
In light of her husband's assault, the speaker changed her schedule for the weekend.
— Rob Legare, Jeff Pegues and Gina Martinez contributed to this report
I have been writing professionally for over 20 years and have a deep understanding of the psychological and emotional elements that affect people. I'm an experienced ghostwriter and editor, as well as an award-winning author of five novels.