SpaceX launches two Falcon 9s and 52 satellites in doubleheader
SpaceX launched Falcon 9 rockets from both coasts Friday, firing off 51 of the company's Starlink internet satellites from California, and then boosting a high-power Inmarsat commercial relay station into orbit from Florida.
The latest batch of Starlinks was launched from Vandenberg Space Force Base, northwest of Los Angeles, at 2:12 p.m. EST. The climb to space went smoothly, and 15 minutes after liftoff, the Starlinks were released in a batch, slowly spreading apart as they drifted away.
SpaceX has now launched 3,981 broadband relay stations in 75 flights as the California rocket builder populates its globe-spanning commercial constellation with tens of thousands of satellites, providing low-latency, relatively high-speed internet to customers at any point on the planet.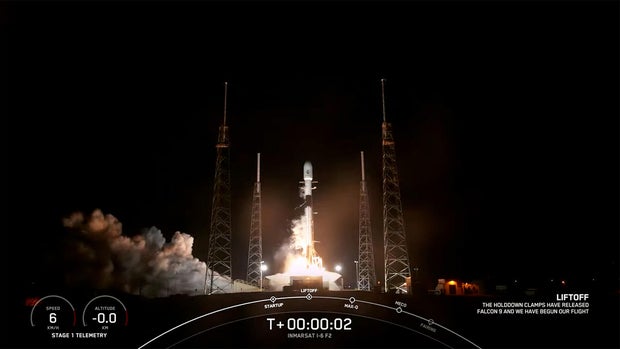 With the Starlinks safely away, SpaceX engineers at the Cape Canaveral Space Force Station in Florida pressed ahead with the launch of Inmarsat's second 6-series communications satellite, a powerful new dual-band relay station intended for government and industrial-level mobile communications.
The countdown went off without a hitch and the rocket blasted off at 10:59 p.m. EST, lighting up a cloudy overnight sky for miles around as it climbed away to the east over the Atlantic Ocean. About 30 minutes later, the 12,345-pound satellite was released to fly on its own.
"Inmarsat has focused exclusively on mobility, we do not serve residential consumers and fixed businesses so much," Peter Hadinger, Inmarsat's chief technology officer, told Spaceflight Now. "Our focus is on the maritime industry, the aviation industry and governments. But the majority of things we do are on the move."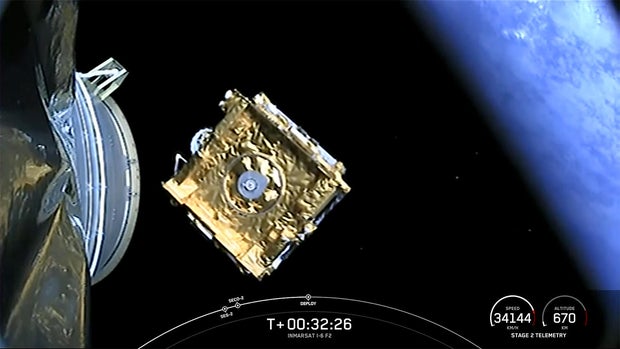 Inmarsat 6/F2 is able to provide two-way communications with aircraft, ships at sea and other vehicles as they are "rolling and rocking and doing whatever they're doing," Hadinger said. "So all of this has to be tracked and handed off from beam to beam and from satellite to satellite as the user moves around the world."
Released into an highly elliptical orbit, the new satellite will use electric thrusters to circularize its orbit at an altitude of 22,300 miles above the equator where it will appear to hang stationary in the sky.
After tests and checkout, Inmarsat 6/F2 will go into service over the Atlantic Ocean, joining an identical satellite launched earlier.
"The thing that makes it unique is all of the signal processing that goes on," Hadinger said. The satellites are "capable of forming beams on the Earth and moving them around in real time, creating channels as we need them, moving the spacecraft's power to where it's required. And that makes it a very capable spacecraft."
Bill Harwood has been covering the U.S. space program full-time since 1984, first as Cape Canaveral bureau chief for United Press International and now as a consultant for CBS News. He covered 129 space shuttle missions, every interplanetary flight since Voyager 2's flyby of Neptune and scores of commercial and military launches. Based at the Kennedy Space Center in Florida, Harwood is a devoted amateur astronomer and co-author of "Comm Check: The Final Flight of Shuttle Columbia."
Twitter

Thanks for reading CBS NEWS.
Create your free account or log in
for more features.
I have been writing professionally for over 20 years and have a deep understanding of the psychological and emotional elements that affect people. I'm an experienced ghostwriter and editor, as well as an award-winning author of five novels.