Russia hands exiled journalist prison sentence for Ukraine war protests
A court in Moscow on Wednesday handed a former state TV journalist an 8 1/2-year prison term in absentia for protesting Russia's war in Ukraine, the latest in a months-long crackdown against dissent that has intensified since Moscow's invasion 20 months ago. Marina Ovsyannikova was charged with spreading false information about the Russian army, a criminal offense under a law adopted shortly after the Kremlin sent troops to Ukraine.
She held a picket in the Russian capital in July 2022, and held a poster that said "(Russian President Vladimir) Putin is a killer. His soldiers are fascists. 352 children have been killed (in Ukraine). How many more children need to die for you to stop?"
Ovsyannikova, who until March 2022 worked for Russia's state-run Channel One, was detained and placed under house arrest, but managed to escape to France with her daughter. Russian authorities put her on a wanted list and prosecuted and tried her in absentia.
In March 2022, Ovsyannikova made international headlines after appearing behind the anchor of an evening Channel One news broadcast with a poster that said, "Stop the war, don't believe the propaganda, they are lying to you here." She quit her job at the channel, was charged with disparaging the Russian military and fined 30,000 rubles ($270 at the time).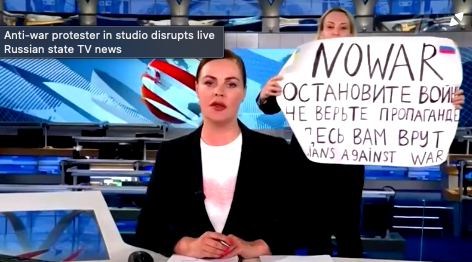 She was later fined again, 50,000 rubles ($860) for discrediting the military.
Thousands of Russians have been fined and hundreds have faced criminal charges for publicly speaking out or protesting against the war in the last 20 months. The Kremlin has used legislation outlawing criticism of what it insists on calling a "special military operation" to target opposition figures, human rights activists and independent media.
Under the law, adopted just weeks before Ovsyannikova made her on-air protest, people convicted of spreading military information that the Kremlin deems to be untrue can face prison sentences of up to 15 years.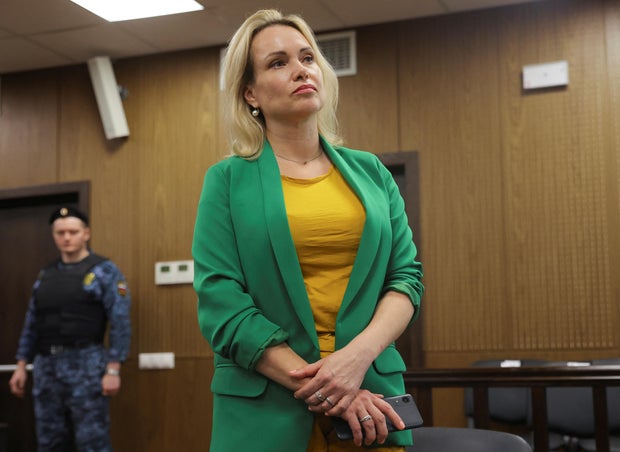 Top Kremlin critics have been handed lengthy prison terms, rights groups have been forced to shut down, independent news sites were blocked and independent journalists have left the country, fearing prosecution.
Among the most prominent dissidents jailed in Russia is opposition leader Alexey Navlany, whom a Russian court convicted in August of promoting "extremism," extending his already-lengthy time in prison by 19 years.
Despite the crackdown by government authorities on dissent, groups of Russian nationals opposed to Putin and his war in Ukraine have stepped-up attacks in towns and cities close to the Ukrainian border in recent months.
As CBS News senior foreign correspondent Debora Patta reported in May, from a bomb blast in Moscow that killed a vocal advocate of Russia's war, to cross-border raids in Russia's Belgorod region evidence of armed resistance to Putin and his policies has been increasing inside the country.
Thanks for reading CBS NEWS.
Create your free account or log in
for more features.
I have been writing professionally for over 20 years and have a deep understanding of the psychological and emotional elements that affect people. I'm an experienced ghostwriter and editor, as well as an award-winning author of five novels.