Powerful nor'easter expected to bring heavy snow, power outages to parts of Northeast
A strong nor'easter is forecast to hit parts of the Northeast this week, bringing excessive rain, heavy snow and formidable winds to states across the region between Monday and Wednesday, according to the National Weather Service.
New York Governor Kathy Hochul declared a state of emergency beginning at 8 p.m. ET on Monday night in preparation for the storm. Emergency personnel and the members of the state National Guard will be on hand to assist if necessary, Hochul said in a statement shared to Twitter on Monday.
"This storm will create hazardous road conditions through Wednesday morning. Please stay home & avoid any unnecessary travel so you can stay safe & help plow crews do their job," Hochul said in the statement, adding there would likely be power outages.
On Monday, a coastal low-pressure weather system "will strengthen rapidly into a major Nor Easter that significantly impacts the Northeast beginning later Monday night through Wednesday," the Weather Prediction Center wrote in a bulletin issued ahead of the oncoming storm. Snow is expected to accumulate rapidly, forecasters said, with at least two inches expected to fall per hour along with strong winds that could make for "dangerous to impossible" travel conditions.
Areas close to sea level will likely see heavy rain, while the chances of snowfall, and how much is expected to accumulate, increases with rising elevation. Forecasters anticipate that parts of the Catskills and southern Adirondacks in New York state, the Berkshires and Worcester Hills in Massachusetts, the Monadnocks and White Mountains in New Hampshire and the southern Green Mountains in Vermont will see more than 12 inches of snow as the storm tracks across the region.
"Localized maximum totals of 24-30 inches are possible," the Weather Prediction Center warned.
The agency also noted that widespread coastal flooding and beach erosion, although potentially minor, could happen as late as Wednesday as the storm system deepens off the coast of New England. Meanwhile, the "heavy-wet nature of the snow," given its onset at the tail end of the winter season, and accompanying wind gusts "will result in scattered to widespread power outages and tree damage," forecasters said. Wind gusts could reach 50 miles per hour, according to the Weather Prediction Center, affecting areas across the I-95 corridor from New York City to Boston.
A nor'easter is a storm along the East Coast that gets its name because of the winds over the affected coastal areas, which typically originate in the northeast, according to the National Weather Service. Although these storms can happen at any time, they occur most often, and are generally "most violent" between September and April, the agency says, noting that nor'easters usually develop along the eastern seaboard between Georgia and New Jersey and are known to hit the densely-populated region between Washington, D.C., Philadelphia, New York and Boston especially hard.
The storm could bring the highest snowfall totals of the season to Boston as well as other parts of coastal Massachusetts, potentially causing power outages in the area come Tuesday when the nor'easter is at its peak, CBS Boston reported. Further south, damaging rain and winds could manifest in portions of coastal New Jersey, New York and Connecticut, the Weather Prediction Center warned in a separate bulletin issued on Monday.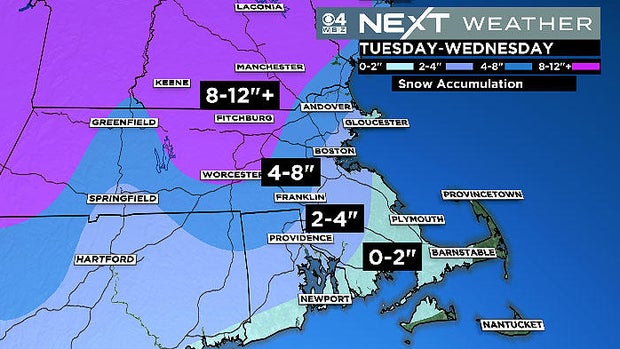 "A powerful coastal storm is forecast to move along the Northeast Coast this evening and through the overnight, with heavy rain expected along the coastal region," forecasters wrote. "This rain may accentuate flooding concerns along the coast, promoted by what are forecast to be strong easterly winds on the north side of the system."
Although this particular storm has been somewhat difficult to forecast, it appeared as of Monday morning that the most intense snow brought on by the nor'easter would not affect New York City, instead hitting areas north and west the hardest, CBS New York reported.
Thanks for reading CBS NEWS.
Create your free account or log in
for more features.
I have been writing professionally for over 20 years and have a deep understanding of the psychological and emotional elements that affect people. I'm an experienced ghostwriter and editor, as well as an award-winning author of five novels.