Pakistan braces for more flooding this year
Last fall, Fatima Laghari's home in Sindh, Pakistan, was swept away in catastrophic floods from "monster monsoons" that deluged the country for months. A Red Crescent humanitarian aid team came through to give her essentials and a tent for temporary shelter. Six months later, she's still living in that tent.
"We had no idea where to go and where we can find shelter," Laghari told CBS News through a translator. Everything was swept away in floods." She and her community are still battling the water-borne diseases like diarrhea, skin disease, and malaria that came in the floods' aftermath.
An area the size of Arizona — about a third of the country — was flooded, and three districts in the Sindh province remain under water as aid organizations are both continuing to provide flood relief and transitioning into recovery efforts.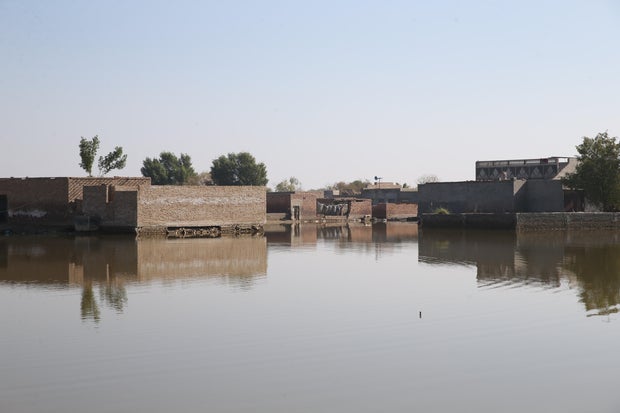 Peter Ophoff, the head of the Pakistan delegation for the International Federation of Red Cross and Red Crescent, explained why flood waters from six months ago still haven't receded: "The challenge with the districts that are still flooded is the soil, the ground is saturated. So the water can go nowhere. It's stuck there. There is no outlet anywhere."
Last year's floods followed a heat wave, with temperatures reaching 120 degrees Fahrenheit. Temperatures rose again in February, and Pakistan's National Disaster Management Authority suggested the cycle of extreme heat and flooding is likely to continue, forecasting a 72% chance of devastating floods again this year, due to the rapid rise in temperatures, glacier melt and early monsoons, according to Pakistan news site The Nation.
A consortium of scientists concluded in the World Weather Attribution initiative that climate change "likely increased extreme monsoon rainfall, flooding highly vulnerable communities in Pakistan." Pakistan causes under 1% of global greenhouse emissions, but it is one of the countries most vulnerable to climate change, according to the U.N. Framework Convention of Climate Change 2021 report.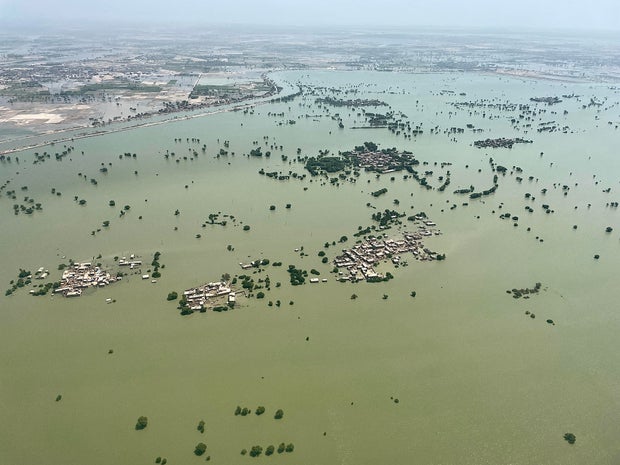 International aid groups are urging Pakistanis to adapt to what may now be their new normal. "We've got to get out of reactive mode and into proactive mode," said David Miliband, President of the International Rescue Committee (IRC). "Let's stop pretending that we should be surprised when there's a climate-related weather emergency."
Pakistanis have begun working on agricultural methods that can withstand extreme weather. Miliband says the IRC is developing and distributing seeds that can survive excessive rain and other challenging conditions.
Miliband also said that giving people cash up front — before weather disaster strikes — can help protect people who live in areas vulnerable to extreme conditions. This kind of anticipatory cash relief is better than payments that come after the damage is done, he argued, because it enables people who know what their communities need to better prepare and insulate themselves against the next climate emergency.
For now, Pakistanis are still coping with all the floods destroyed — fields, crops, homes, schools and hospitals. Shelter remains a top priority for aid organizations that distributed tents to families after 2.1 million homes were damaged. The country's infrastructure still has not been rebuilt. In Sindh province, more than 89,000 people remained displaced as of January 2, according to the Center for Disaster Philanthropy, with many relocating their tents to higher elevations.
Clean drinking water is also in short supply. More than 10 million people in flood-affected areas still lack access to safe drinking water, according to UNICEF.
The shortage is directly related to the widespread outbreak of waterborne diseases, and it's a key underlying cause of malnutrition, which the U.N. estimates affects a third of the children in the flood-affected districts.
"Indicators for malnutrition and cases of malnutrition among children are very worrying. So this is of immediate concern right now," Catherine Weibel, director of the United Nations Information Centre in Islamabad, told CBS News.
The U.N. hosted a conference in Geneva in January that was entirely devoted to Pakistan's flood crisis. Almost 90% of the pledges were loans for projects that will be rolled out over the next three years, according to Pakistan's finance minister. But Pakistan's flood response plan, jointly launched by the government and the U.N., remains only 36% funded, according to a Brookings Institution report.
The fear of more floods is ever present in the minds of those that survived. "Now there are alerts regarding the upcoming heavy rains," says Laghari. "Our houses are destroyed and we have nowhere to go, as we are still living in tents."
Thanks for reading CBS NEWS.
Create your free account or log in
for more features.
I have been writing professionally for over 20 years and have a deep understanding of the psychological and emotional elements that affect people. I'm an experienced ghostwriter and editor, as well as an award-winning author of five novels.