Live Updates: Arizona, Missouri, Kansas, Michigan and Washington primary results
Votes were cast Tuesday in five states, including some that were battlegrounds in 2020 — and will be again in 2024. Kansas voters voted to preserve abortion access Tuesday night, as abortion faced its first test at the ballot box since the Supreme Court struck down Roe v. Wade.
With former President Donald Trump's influence looming large in some of Tuesday's primaries, a CBS News poll released Tuesday showed that for Republicans, a Trump endorsement is a plus for that candidate, and even more so among Republicans who say they "always" vote in Republican primaries, most of whom identify as MAGA Republicans.
Arizona
In Arizona, former President Trump has rallied for his allies in the races for Senate, governor and secretary of state. Arizona was one of the key battleground states that went for President Joe Biden in 2020. After the election, some Republicans in the state tried to overturn the results, with a plan to send a slate of phony alternate electors who supported Trump to Congress for the Electoral College certification, rather than the electors won by President Biden.
In the Republican primary to take on Democratic Sen. Mark Kelly in November, Trump backed Blake Masters, who had a comfortable lead according to two polls ahead of the primary.
For governor, former TV news anchor Kari Lake and lawyer Karrin Taylor Robson were in a tight contest for the GOP nomination that repeats a dynamic between Trump and former Vice President Mike Pence: Trump has backed Lake, while Pence, along with term-limited sitting Republican Gov. Doug Ducey, have backed Taylor Robson. Last month, Trump and Pence held dueling rallies for Lake and Robson on the same day.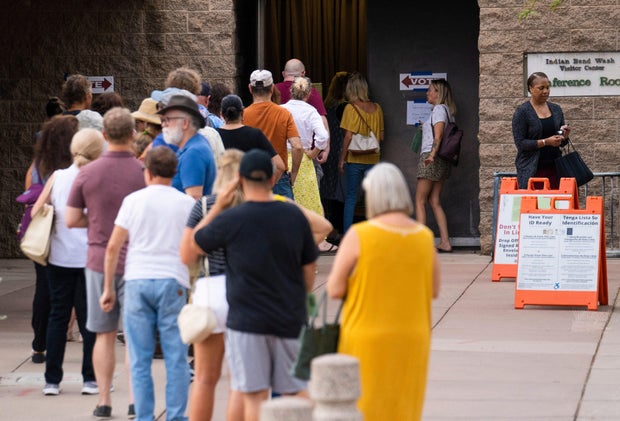 Trump has also backed a challenger to state House Speaker Rusty Bowers, who testified in June at a House Jan. 6 committee public hearing. Bowers is term-limited out of that position but is running for state Senate. Days before the primary, the Arizona GOP voted to formally censure him for his testimony, a culmination of the frustrations many far-right members have with Bowers' past refusal to support Trump-backed attempts to overturn the 2020 election.
This year, Bowers helped block a bill, introduced by Secretary of State candidate and current state Rep. Shawnna Bolick, to empower the legislature to choose its own electors, regardless of how the people voted. For his actions, the former president lashed out against him, calling the Speaker a "RINO coward," and endorsed his opponent, former state Sen. David Farnsworth.
Missouri
CBS News projects that Attorney General Eric Schmitt, who has been leading the crowded field, wins the Republican nomination for the open Senate seat in Missouri. Eric Greitens, the former governor who resigned in 2018 and has faced allegations of domestic abuse, led early in the race, but an $11 million ad blitz by two anti-Greitens groups chipped it away.
On the eve of the primary, Trump issued a kind of split endorsement in the race, throwing his support behind "ERIC." Both Eric Schmitt and Eric Greitens quickly claimed they'd won his backing.
In Missouri's 1st Congressional District, CBS News projects incumbent Rep. Cori Bush, who unseated a longtime incumbent in 2020, will win her primary.
Meanwhile, three of the 10 House Republicans who voted to impeach Trump are facing Trump-backed primary challengers. Trump posted Tuesday on Truth Social to urge Republican voters to "knock out impeachment slime."
Michigan
In Michigan, CBS News projects John Gibbs defeats incumbent Rep. Peter Meijer, one of the 10 House Republicans who voted to impeach Trump. Trump had backed Gibbs in the primary, and Gibbs will now face Democratic nominee Hillary Scholten in the general election.
In a statement early Wednesday, Meijer said he is "proud to have remained true to my principles, even when doing so came at a significant political cost."
In the race to take on Gov. Gretchen Whitmer, CBS News projects Tudor Dixon will win the Republican nomination. Dixon, backed by Trump, had been seen by Republican strategists as the strongest candidate to take on Whitmer. Among the Republicans Dixon defeated was Ryan Kelley, who was arrested in June related to his participation in the Jan. 6 attack on the U.S. Capitol.
"Now we have the opportunity to truly hold Gretchen Whitmer accountable for the pain she has inflicted on every one of us in the past three years," Dixon said at her election night watch party in Grand Rapids, Mich., referring to the lockdowns imposed during the early part of the COVID-19 pandemic.
Washington
In Washington, the top two vote-getters will advance to the general election regardless of party affiliation. Republican Rep. Jaime Herrera Beutler in the 3rd District and Dan Newhouse in the 4th District both face the risk of being shut out because of Trump-backed challengers.
Kansas
Kansas voted to preserve abortion access, voting "no" on a proposition to amend the state constitution, marking the first time a state has voted on abortion since the Supreme Court struck down Roe v. Wade.
Kansas Democratic Party Chairwoman Vicki Hiatt celebrated the win for abortion access, saying in a statement, "This outcome affirms what we know is true: Kansans want common sense leadership that will protect their right to keep politicians out of their health care decisions."
In 2019, Kansas' state Supreme Court ruled that the right to an abortion is protected in the state constitution's bill of rights. Voters were deciding whether to allow the constitution to be amended in order to allow the legislature to ban abortion.
See below for a full list of Tuesday's races and winners once a race is called.
I have been writing professionally for over 20 years and have a deep understanding of the psychological and emotional elements that affect people. I'm an experienced ghostwriter and editor, as well as an award-winning author of five novels.