Israeli forces raid Gaza, preparing for "next stages of the war"
Tel Aviv — Israel carried out an hours-long, overnight ground raid into the northern Gaza Strip, the country's military said Thursday, as part of "preparations for the next stages of the war" with the Palestinian militant group Hamas.
The Israel Defence Forces (IDF) released video of the raid showing a bulldozer leveling a raised bank amid explosions and tank fire in the Hamas-run Palestinian territory. The timing of a long expected full-scale Israeli ground invasion remained unclear Thursday, but the consequences of Israel's relentless airstrikes, which started immediately after Hamas' brutal terror attack on Israel, have already been catastrophic for the 2.3 million people trapped inside Gaza.
The United Nations estimates that some 1.4 million people have been displaced from their homes within the densely populated region. Gaza's health care system is on the verge of total collapse, with over half of its health care facilities no longer functioning, according to the World Health Organization. Water is running out, along with stocks of anesthesia and other vital medicines. Some aid has started flowing in this week, but crucially, no fuel supplies have been allowed across the border into Gaza.
The stream of injured being rushed to Gaza's hospitals after airstrikes continues. Many of the victims are young children, even babies.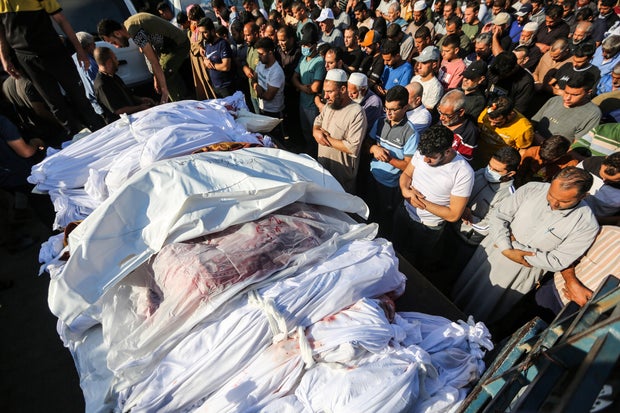 Gaza's Hamas-run Ministry of Health said Wednesday that over 750 people were killed in the previous 24 hours — the second day in a row that it claimed a toll over 700. The total toll in Gaza since Israel started its airstrikes stands at over 7,000, according to the ministry, including the disputed death toll from an explosion at the al-Ahli hospital last week.
Israel says Hamas killed more than 1,400 people in its unprecedented attack on October 7 and with its ongoing rocket attacks. The Israeli military said Thursday that 224 people were still believed to be held hostage by Hamas in Gaza. Hamas' military wing said, meanwhile, that Israel had killed 50 of the hostages with its airstrikes on Gaza.
Aid agencies and many countries in the region have warned that an Israeli ground incursion will mean even greater loss of civilian life.
Dr. Muhammed Kandeel, who works at the Nasser Hospital in Gaza, told CBS News he doesn't even have water to wash his hands sometimes, risking infection among the many wounded people he's treating.
"They will know they are going to die, because the hospitals have nothing to offer them," he said. "It cannot be described by words. It's hell."
He said the situation is so horrific that he has almost given up.
"We feel we are not a part of the human community," Kandeel told CBS News. "If we are sub-human, just tell us, so we can take action by ourselves."
Those who cannot be saved are taken to morgues where overwhelmed staff have been running out of the traditional Islamic shrouds used to prepare bodies for burial. And every day brings new airstrikes and fresh trauma.
Overnight, Al Jazeera journalist Wael Al Dahdouh said he learned that his wife, daughter and son were killed alongside 12 other members of his family. They had relocated to the south of Gaza, where they hoped to find relative safety as Israel's military has repeatedly urged Palestinians to evacuate to the area.
"Strikes on military targets are subject to relevant provisions of international law, including the taking of feasible precautions to mitigate civilian casualties," the IDF said in a statement shared with CBS News on Thursday. "Regarding this specific case, the IDF targeted Hamas terrorist infrastructure in the area."
Palestinian militants from Hamas and other groups have fired barrages of rockets into Israel since the war began, most of which have been intercepted by Israel's Iron Dome defense system. The IDF says it only strikes militant targets in Gaza and accuses Hamas of using civilians as human shields, hiding weapons and command centers in schools, mosques and other civilian infrastructure.
Israel has allowed 74 trucks carrying aid into Gaza through the Rafah crossing from Egypt, the Palestinian Red Crescent Society said Thursday. Aid workers say it's nowhere near what is necessary, and is only a fraction of the aid that was coming in every day before the war. Israel says it won't allow fuel deliveries into Gaza because Hamas will use it to continue its assault, and it has accused the group — long designated a terror organization by the U.S., Israel and most European nations — of hoarding fuel there.
UNRWA, the U.N. organization that works with Palestinians across the region, has been sharing its fuel supplies to power generators so water can be desalinated, bread can be baked and hospitals can keep incubators and life support machines running. The agency said it's being forced to ration its fuel supplies, or it could run out as soon as Thursday.
"Do we give for the incubators or the bakeries?" UNRWA spokeswoman Tamara Alrifai told The Associated Press. "It is an excruciating decision."
Thanks for reading CBS NEWS.
Create your free account or log in
for more features.
I have been writing professionally for over 20 years and have a deep understanding of the psychological and emotional elements that affect people. I'm an experienced ghostwriter and editor, as well as an award-winning author of five novels.