How to invest in gold, according to experts
We may receive commissions from some links to products on this page. Promotions are subject to availability and retailer terms.
MoneyWatch: Managing Your Money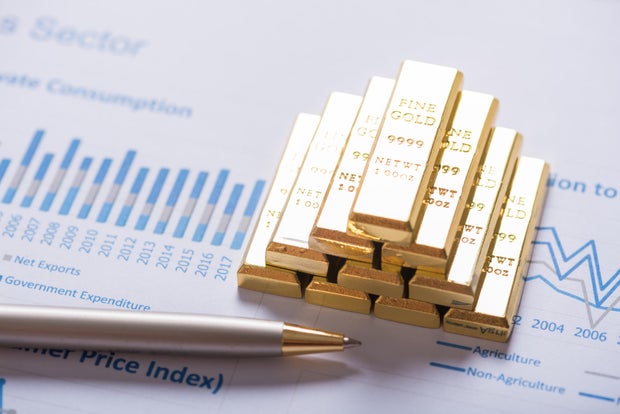 Amid persistent inflation, bank closures and a looming recession, many Americans are reviewing their investments to ensure they're keeping up with the economic changes. One investment worth considering is gold, often seen as a store of value during geopolitical and economic uncertainty. Historically, gold can also act as a hedge against inflation and help you diversify your portfolio.
But if you're new to precious metal investing, figuring out how to invest in this asset can be challenging. That's why we've gathered advice from leading gold experts to help you understand how to invest in gold and avoid common pitfalls.
If you're considering gold now then start with a free investors kit to learn more.
Why invest in gold?
"Gold has been a store of value for nearly 5,000 years and has been used by mankind as a medium of exchange," says Chris Battifarano, chief investment officer for FineMark National Bank & Trust. "There is no obvious reason for this to change. Governments can not alter the quantity of gold as they can with fiat currency."
This store of value can also act as a hedge against inflation. "Gold has also generally offered some protection against sustained high inflation—above 5% a year over at least a two-year period—and against significant weakness in equities and the US dollar," said Chief Gold Strategist at State Street Global Advisors, George Milling-Stanley.
While our experts provided many beneficial reasons to invest in gold, nearly all pointed to investment portfolio diversification as a primary advantage of gold. "Gold has also demonstrated little relationship to the other assets one might find in a typical balanced portfolio, so it has provided an important element of diversification," said Milling-Stanley, a 50-year veteran of the gold industry.
Request a free information kit here now to learn if gold investing is right for you.
How do you invest in gold?
There are several ways to invest in gold, including buying physical gold bars and coins and investing in gold individual retirement accounts (IRAs) and gold exchange-traded funds (ETFs).
"The best way to invest in gold is a very personal decision," states Michael Ashley Schulman, CFA partner and chief investment officer at Running Point Capital Advisors. "Gold ETFs are a convenient way for beginners to invest in gold with low friction costs and without the need for physical storage or the complexities of futures trading. However, if one craves the Armageddon safety of gold, owning it physically may be the preferred option."
Gold IRAs may help you diversify your retirement portfolio. These accounts work similarly to traditional IRAs but allow you to hold physical gold and other approved precious metals. Gold IRAs offer tax-deductible contributions with self-directed gold IRAs or tax-free withdrawals with Roth gold IRAs.
When it comes to gold IRAs and other types of gold investing, Milling-Stanley stresses the importance of due diligence. "Investors must satisfy themselves, and any professional advisors they consult, as to the suitability of a particular gold IRA and of the providers of the product."
"An ETF on gold miners and explorers can also be a compelling, efficient option," adds the Director of Research at Global X, Rohan Reddy. "That's because investors have the opportunity to gain exposure to the broader gold mining sector and a variety of companies involved in the exploration of gold."
How to avoid beginner mistakes
One of the biggest mistakes gold investors make is looking for short-term gains from a precious metal that is often considered a long-term asset. "Gold investors should not try to predict short-term price changes for gold or any other investment asset," advises New Frontier Advisors CIO Robert Michaud. "The nature of markets is that prices reflect currently known information, so investors should focus on having a suitable portfolio for the long term."
Another common mistake of gold investing, as with other types of investing, is failing to consider the risks involved. It's crucial to educate yourself and consider not just the benefits but the potential downsides of owning gold.
Schulman points out that "the risks include price fluctuations, insurance and storage costs for physical gold, geopolitical risks, and risks associated with specific investment vehicles like futures or mining stocks"
The bottom line
Given the state of the economy, including a potential recession in 2023, it may make sense to consider adding a slice of gold to your portfolio. Milling-Stanley notes "there have been seven significant recessions in the US over the past 50 years. The average annual price appreciation in gold over these seven recessions has been in excess of 20%." While gold has a strong performance record during recessionary periods, be aware that past performance doesn't guarantee future results.
Experts commonly recommend investing no more than 5% to 10% of your portfolio in gold and other precious metals. Consult with your financial advisor or accountant and consider your risk tolerance before investing to ensure the asset aligns with your overall investment strategy. Start by requesting a free information kit to learn more about this unique investment opportunity.
Thanks for reading CBS NEWS.
Create your free account or log in
for more features.
I have been writing professionally for over 20 years and have a deep understanding of the psychological and emotional elements that affect people. I'm an experienced ghostwriter and editor, as well as an award-winning author of five novels.