Doctor charged with sexually assaulting patients convicted of sex trafficking
A gynecologist who molested patients during a decades long career was convicted of federal sex trafficking charges Tuesday after nine former patients told a New York jury how the doctor they once trusted attacked them sexually when they were most vulnerable.
A Manhattan federal court jury returned its verdict after deliberating less than a day in the case against Robert Hadden, 64, who worked at two prestigious Manhattan hospitals – Columbia University Irving Medical Center and New York-Presbyterian Hospital – until complaints about his attacks shut down his career a decade ago.
More than 200 of his former patients have settled lawsuits against Columbia University, reaching agreements totalling more than $230 million — and the accusations against him were central to a campaign for the New York Adult Survivors Act, which in November opened a one-year window for survivors of sexual abuse to file lawsuits that would otherwise be barred by statutes of limitations.
Hadden's lawyers admitted that their client had sexually abused patients, but they said his guilty plea to charges in state court seven years ago put those crimes behind him.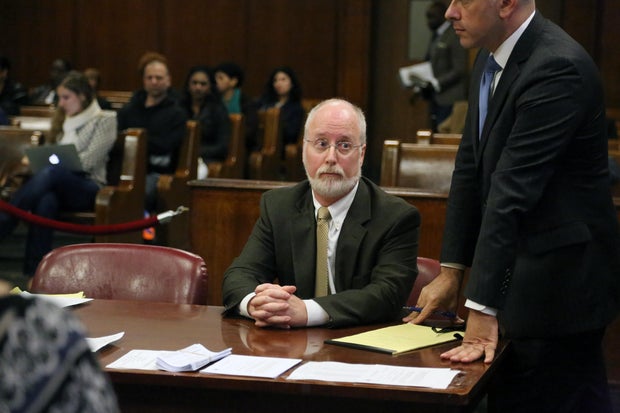 Prosecutors said federal charges were appropriate because Hadden, of Englewood, New Jersey, enticed women to cross state lines so he could attack them.
Defense lawyers argued that he didn't know patients were coming from other states, including New Jersey and Nevada.
After the verdict, U.S. Attorney Damian Williams issued a statement in which he called Hadden "a predator in a white coat."
"For years, he cruelly lured women who sought professional medical care to his offices in order to gratify himself. Hadden's victims trusted him as a physician, only to instead become victims of his heinous predilection," he said.
The verdict capped a two-week trial that featured a procession of former patients who described how the doctor questioned them about their personal lives, including their sexual experience, before touching them inappropriately on the breasts or between their legs.
An indictment charged Hadden with sexually abusing patients from 1993 through at least 2012, although a prosecutor noted during a closing argument on Monday that a nurse testified that he was molesting patients in the late 1980s.
"He donned his white coat and took the oath all doctors do to 'do no harm' and then he did the exact opposite," Assistant U.S. Attorney Jane Kim told the jury.
She said he tried to "hide behind his white coat" and the prestige of Columbia University as he won over vulnerable patients before sexually abusing them.
In her closing, defense attorney Kathryn Wozencroft said what some of Hadden's patients endured at his hands was "disgusting and horrible," but that his state court convictions covered those crimes.
She argued that the federal charges were inappropriate because they required that Hadden entice his victims to cross state lines when he was unaware in advance of which patients he would treat each day and where they were coming from.
Among former patients who have spoken publicly was Evelyn Yang, whose husband, Andrew Yang, ran unsuccessfully as a Democrat for president in 2020 and for New York City mayor in 2022.
In 2020, she said Hadden sexually assaulted her eight years prior, even when she was seven months pregnant. She had called the sentence in the state case a "slap on the wrist."
The Associated Press generally withholds the names of sexual abuse victims from stories unless they have decided to tell their stories publicly, which Yang and others have done.
Columbia University has previously called Hadden's behavior "abhorrent" and in October said it has adopted policies to ensure patients "are protected and empowered while in our care."
"We deeply regret the pain that Robert Hadden's patients suffered and hope that these resolutions will provide some measure of support for the women he hurt," the university said at the time. "All those who came forward should be commended."
Graham Kates contributed to this report.
Thanks for reading CBS NEWS.
Create your free account or log in
for more features.
I have been writing professionally for over 20 years and have a deep understanding of the psychological and emotional elements that affect people. I'm an experienced ghostwriter and editor, as well as an award-winning author of five novels.