Can two hurricanes merge? The Fujiwhara Effect explained
Two storms brewing off the southeastern U.S. this week are raising concerns. Idalia prompted a hurricane warning for part of Florida's Gulf Coast on Monday and Franklin became the first major hurricane of 2023 as it churned near Bermuda.
While the two are not expected to cross paths — and Franklin is not expected to make landfall in the U.S. at all — the news of both storms approaching at the same time has prompted the question: Can two hurricanes merge?
What is the Fujiwhara Effect?
The phenomenon of two hurricanes passing close by each other spinning in the same direction, they begin to interact in what's called the Fujiwhara Effect, according to the National Weather Service, which describes how the storms then "begin an intense dance around their common center." Usually, the stronger hurricane will absorb the other one. If the storms are of similar strength, they will be pulled to each other, spin around each other and then go on their own paths.
It can result in two smaller hurricanes merging into one larger storm, but this is rare, the weather service says.
The phenomenon is named after Japanese meteorologist Sakuhei Fujiwhara, who first wrote about the effect in a paper published in 1921.
One recent example occurred in 2017, when storms called Hilary and Irwin crossed paths in the eastern Pacific, off the coast of Mexico.
Have two major storms made landfall in the U.S. at the same time?
There have been several instances of major storms making landfall back to back — in some cases, just hours apart — but not in the same state at the same time.
In 2020, meteorologists warned that Hurricanes Laura and Marco could make rare back-to-back landfalls. Marco, however, weakened significantly before it reached Louisiana on Aug. 25. Laura, a Category 4, made landfall in Cameron, Louisiana, on Aug. 27.
In 2004, Florida was hit with four major storms within six weeks of each other.
Hurricane Charley, a Category 4, hit Punta Gorda, on the west coast of Florida, on Aug. 13. On Sept. 5, Hurricane Frances made landfall as a Category 2 on Hutchinson Island, on Florida's east coast. That same day, Hurricane Ivan began to develop, and it made landfall on Sept. 16 as a Category 3 in Gulf Shores, Alabama, bringing damage to parts of Florida. Then, on Sept. 26, Hurricane Jeanne, a Category 3, hit in virtually the same spot Frances did just weeks before.
The year 1933 saw a devastating hurricane season as well, with two Category 3 hurricanes that made landfall in the U.S. within 23 hours, in two different states, according to the National Weather Service. In the era before hurricanes were given names, the storms became known as the Treasure Coast Hurricane, which hit southeast Florida, and the Cuba-Brownsville hurricane, which hit south Texas.
In 1959, Tropical Storm Beulah and an unnamed hurricane began forming just hours apart in the Gulf, according to a monthly weather review from the American Meteorological Society, written that year. Beulah was short lived, but the second hurricane brought heavy rains, winds and even tornadoes to parts of Florida.
NOAA has a list of notable hurricanes, and while some have made landfall within the same month — or even the same week — none have made landfall at the same time.
Earlier this year, researchers from Princeton said the risk of double hurricanes in some areas like the Gulf are increasing. The researchers looked at 2017's destructive hurricane season, when Hurricanes Harvey, Irma and Maria wreaked havoc on Texas, Florida and Puerto Rico, respectively. Again in 2021, Hurricane Ida and Tropical Storm Nicholas occurred in quick succession.
The researchers used computer simulations that measured the likelihood of multiple destructive storms forming within 15 days of each other and they found that storms that might have once passed with little threat will likely become bigger threats, especially when they arrive back to back.
The two factors that will likely increase storms' frequency and intensity, they said, are "rising sea levels and increasing precipitation driven by climate change."
What are the paths of Idalia and Franklin?
While Idalia and Franklin formed around the same time, their projected paths are different.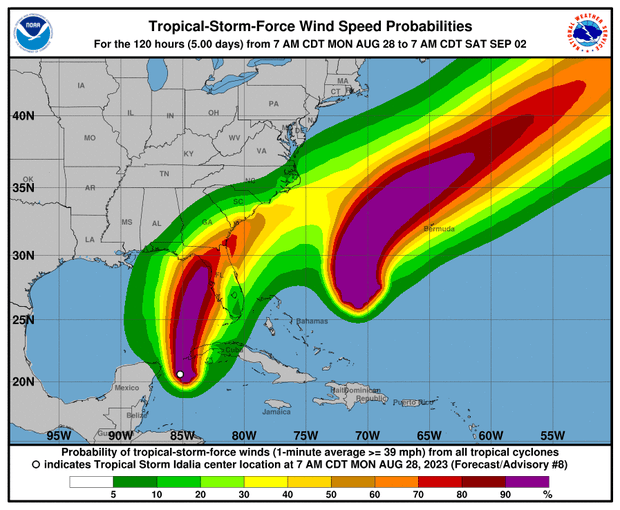 On Monday, Idalia was intensifying as it moved north on a path expected to take it through the Gulf of Mexico to Florida's west coast. It approached Cuba with sustained winds of 70 mph but was forecast to become a Category 3 hurricane before reaching Florida. Parts of Florida were under hurricane warnings, with Idalia is expected to make landfall on Wednesday.
Florida Gov. Ron DeSantis warned at a news conference Monday that the storm will have a major impact and that Floridians should prepare accordingly.
Franklin, meanwhile, was located farther east over the Atlantic. It is not expected to make landfall but is projected to move northwards, parallel to the East Coast of the U.S.
The National Hurricane Center warned of possible tropical storm conditions from Franklin in Bermuda on Wednesday, and said the storm could cause "life-threatening surf" and rip currents along the U.S. coast over the next few days.
After Idalia crosses Florida, the forecast shows it's expected to move across the southeast coast of Georgia and the Carolinas on Thursday and then out into the Atlantic by Friday. Franklin's projected path puts it above Idalia's forecast position on Thursday.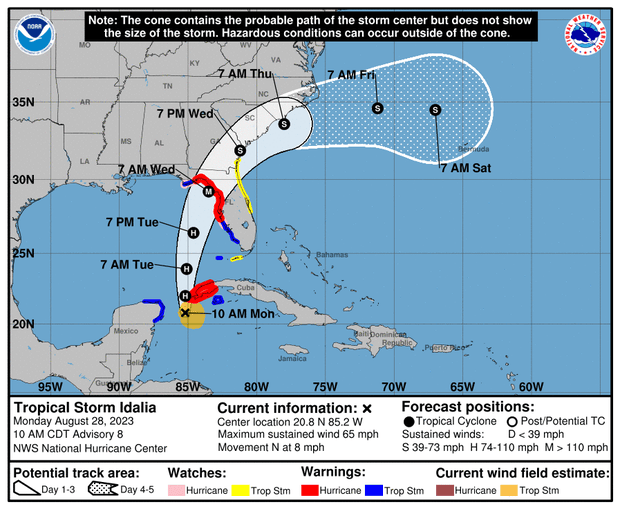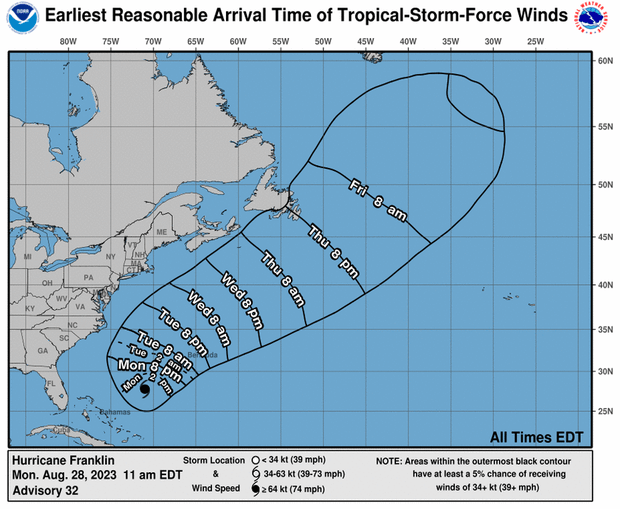 Caitlin O'Kane is a digital content producer covering trending stories for CBS News and its good news brand, The Uplift.
Thanks for reading CBS NEWS.
Create your free account or log in
for more features.
I have been writing professionally for over 20 years and have a deep understanding of the psychological and emotional elements that affect people. I'm an experienced ghostwriter and editor, as well as an award-winning author of five novels.