At least 250 killed in unprecedented Hamas attack in Israel
The ruling Hamas militant group in the Gaza Strip carried out an unprecedented, multi-front attack on Israel at daybreak Saturday, firing thousands of rockets as dozens of Hamas fighters infiltrated the heavily fortified border in several locations by air, land and sea, catching the country off-guard on a major Jewish holiday. A stunned Israel launched airstrikes in Gaza, with its prime minister saying the country is now at war with Hamas and vowing to inflict an "unprecedented price."
At least 250 people in Israel have been killed and 1,500 wounded in the Hamas militant group's incursion in southern Israel, according to Magen David Adom, Israel's national emergency services agency said Saturday night, making it the deadliest attack in Israel in decades. Video showed bodies of Israeli civilians scattered on streets.
In an assault of startling breadth, Hamas gunmen rolled into as many as 22 locations outside the Gaza Strip, including towns and other communities as far as 15 miles from the Gaza border. In some places they gunned down civilians and soldiers as Israel's military scrambled to muster a response.
The Israeli military confirmed Saturday that Hamas militants were holding Israeli civilians and soldiers hostage in Gaza. The military did not say how many hostages were seized. Lt. Col. Richard Hecht, an Israeli army spokesman, confirmed that "substantial" number of Israelis were abducted.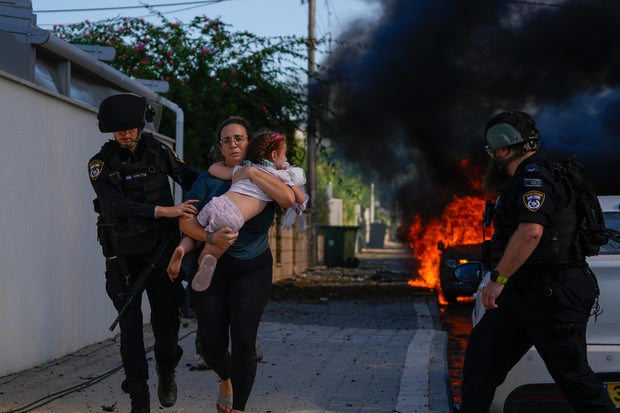 At least 232 people have been killed and 1,697 wounded in Gaza from Israeli counterattacks, the Palestinian Health Ministry reported Saturday.
Armed Palestinian groups in the occupied West Bank have vowed to join Hamas in its ongoing assault.
Gunbattles continued well after nightfall Saturday, and militants held hostages in standoffs in two towns. Militants occupied a police station in a third town, where Israeli forces struggled until Sunday morning to finally reclaim the building.
Before daybreak Sunday, militants fired more rockets from Gaza, hitting a hospital in the Israeli coastal town of Ashkelon. The hospital sustained damage, said senior hospital official Tal Bergman. Video provided by Barzilai Medical Center showed a large hole punched into a wall and chunks of debris scattered on the ground of what appeared to an empty rooms and a hallway. There was no report of casualties.
"We are at war," Israeli Prime Minister Benjamin Netanyahu said in a televised address Saturday morning, declaring a mass mobilization of the country's army reserves. "Not an 'operation,' not a 'round,' but at war."
"The enemy will pay an unprecedented price," he added, promising that Israel would "return fire of a magnitude that the enemy has not known."
In a second televised address Saturday night, Netanyahu said the military will use all of its strength to destroy Hamas' capabilities. But he warned, "This war will take time. It will be difficult."
"All the places that Hamas hides in, operates from, we will turn them into ruins," he added. "Get out of there now," he told Gaza residents, who have no way to leave the tiny, overcrowded Mediterranean territory of 2.3 million people.
The Israeli Prime Minister's Office announced late Saturday that the Israeli cabinet made the decision to halt the supply of all fuels, electricity and goods to Gaza.
Israeli airstrikes in Gaza intensified after nightfall, flattening residential buildings in giant explosions, including a 14-story tower that held dozens of apartments as well as Hamas offices in central Gaza City. Israeli forces fired a warning just before.
Around 3 a.m., a loudspeaker atop a mosque in Gaza City blared a stark warning to residents of nearby apartment buildings: Evacuate immediately. Just minutes later, an Israeli airstrike reduced one nearby five-story building to ashes.
After one Israeli strike, a Hamas rocket barrage hit four cities, including Tel Aviv and a nearby suburb. Throughout the day, Hamas fired more than 3,500 rockets, the Israeli military said.
The Hamas attack began with an early-dawn rocket attack that lasted for nearly half an hour. Thousands of rockets were launched from inside Gaza, some making it as far as Tel Aviv, causing widespread damage. Next came an invasion from Hamas militants who had infiltrated Israel in at least seven locations. The fighters had sneaked across the separation fence and even invaded Israel through the air with paragliders and by sea, the army said. The fighters stormed the streets of nearby border towns, setting Israeli tanks on fire as they went.
In the kibbutz of Nahal Oz, just 2.5 miles from the Gaza Strip, terrified residents who were huddled indoors said they could hear constant gunfire echoing off the buildings as firefights continued even hours after the initial attack.
"With rockets we somehow feel safer, knowing that we have the Iron Dome (missile defense system) and our safe rooms. But knowing that terrorists are walking around communities is a different kind of fear," said Mirjam Reijnen, a 42-year-old volunteer firefighter and mother of three in Nahal Oz.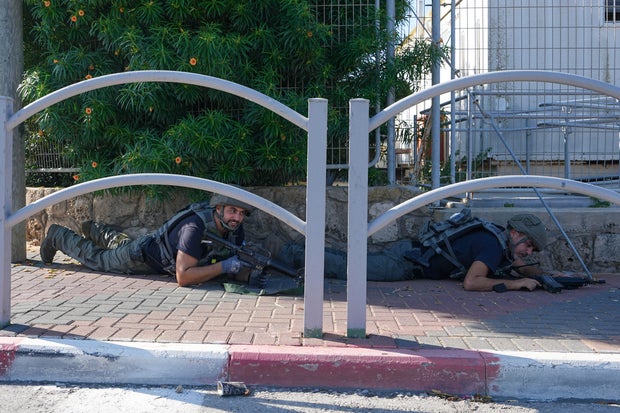 Social media was replete with videos of Hamas fighters parading what appeared to be stolen Israeli military vehicles through the streets and at least one dead Israeli soldier within Gaza being dragged and trampled by an angry crowd of Palestinians shouting "God is Great." CBS News has not verified the video. The military declined to give details about casualties or kidnappings as it continued to battle the infiltrators.
In some towns, civilians' bodies lay where they had encountered advancing gunmen. At least nine people gunned down at a bus shelter in the town of Sderot were laid out on stretchers on the street, their bags still on the curb nearby. One woman, screaming, embraced the body of a family member sprawled under a sheet next to a toppled motorcycle.
In amateur video, hundreds of terrified young people who had been dancing at a rave fled for their lives after Hamas militants entered the area and began firing at them. Israeli media said dozens of people were killed.
Among the dead was Col. Jonathan Steinberg, a senior officer who commanded the Israeli military's Nahal Brigade, a prominent infantry unit.
"At this time, the IDF is reinforcing the south and the communities surrounding the Gaza Strip with several operational forces," said Rear. Admiral Daniel Hagari, an Israel Defense Forces spokesperson, in a statement to CBS News. "Operational commanders are arriving to manage the combat in each location. In parallel to this, we have begun a wide mobilization of reservists for all IDF units."
The IDF said in a statement Saturday night that it had conducted an aerial attack on a "concealed launch site and targeted two terrorists near it," while IDF fighter jets had struck two operational command centers, one belonging to Hamas and the other to the Palestinian Islamic Jihad militant group.
The agency said it had also conducted aerial attacks on vehicles that attempted to "infiltrate the security fence from the Gaza Strip into Israel," and a terrorist cell "attempting to infiltrate Israeli territory from the sea."
In a televised address, Israeli Defense Minister Yoav Gallant warned that Hamas had made "a grave mistake" and promised that "the state of Israel will win this war."
In comments made before the country's Security Cabinet, Netanyahu said the country's "first objective is to clear out the hostile forces that infiltrated our territory and restore the security and quiet to the communities that have been attacked."
"The second objective, at the same time, is to exact an immense price from the enemy, within the Gaza Strip as well. The third objective is to reinforce other fronts so that nobody should mistakenly join this war," Netanyahu continued. "We are at war. In war, one needs to be level-headed. I call on all citizens of Israel to unite in order to achieve our highest goal – victory in the war."
The escalation comes after weeks of heightened tensions along Israel's volatile border with Gaza, and heavy fighting in the Israeli-occupied West Bank. It also comes at a delicate time for Netanyahu's far-right government, with hundreds of soldiers in the military reserves have either pulling out of training sessions or promising they won't report for duty over government's deeply divisive plan to weaken the Supreme Court.
The divisions within army ranks have threatened to undermine Netanyahu's reputation as a security expert who would do anything to protect Israel and the cohesion of an institution crucial to the stability of a country locked in low-intensity conflicts on multiple fronts and facing threats from Lebanon's Hezbollah militant group.
On Saturday, U.S. leaders vowed support for Israel.
In brief remarks from the White House, President Biden said that "the people of Israel are under attack, orchestrated by a terrorist organization, Hamas. I want to say to them and to the world, and to terrorists everywhere, that the United States stands with Israel."
The president said he is in contact with King Abdullah II of Jordan about the situation, along with congressional members. He said has directed his team to maintain contact with "leaders throughout the region."
"We'll make sure that they have the help their citizens need, and they can continue to defend themselves," Mr. Biden added.
The FBI and the Department of Homeland Security issued a bulletin stating that there was "no specific intelligence indicating a threat to the" U.S. following the Hamas attack.
Adrienne Watson, a spokesperson for the National Security Council, condemned the attacks on Saturday in a statement, saying: "The United States unequivocally condemns the unprovoked attacks by Hamas terrorists against Israeli civilians. There is never any justification for terrorism. We stand firmly with the Government and people of Israel and extend our condolences for the Israeli lives lost in these attacks. National Security Advisor Jake Sullivan has spoken to Israeli National Security Advisor Tzachi Hanegbi and we remain in close contact with our Israeli partners."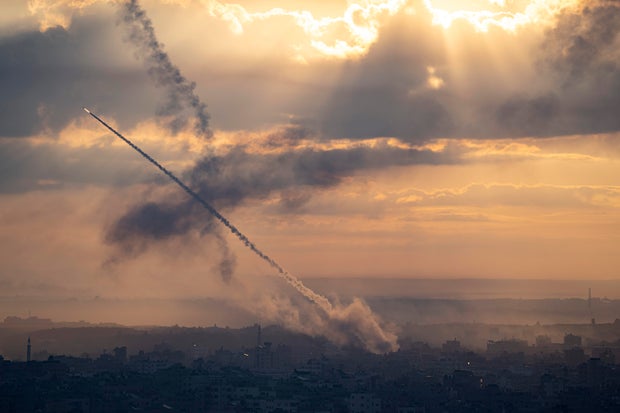 Lloyd J. Austin, the U.S. Secretary of Defense, said he was closely monitoring developments in Israel.
Our commitment to Israel's right to defend itself remains unwavering, and I extend my condolences to the families of those who lost their lives in this abhorrent attack on civilians," he said. "Over the coming days the Department of Defense will work to ensure that Israel has what it needs to defend itself and protect civilians from indiscriminate violence and terrorism."
The infiltration of fighters into southern Israel marked a major accomplishment — and escalation — by Hamas that forced millions of Israelis to hunker down in safe rooms, sheltering from rocket explosions and ongoing gunbattles with Hamas fighters. Cities and towns emptied as the military closed roads near Gaza. Israel's rescue service and the Palestinian Health Ministry in Gaza appealed to the public to donate blood.
"We understand that this is something big," Hecht told reporters. He said the Israeli military had called up the army reserves.
It was not immediately clear what prompted Hamas to launch its attack, which came after weeks of simmering tensions along the Gaza frontier. The shadowy leader of Hamas' military wing, Mohammed Deif, announced the start of what he called "Operation Al-Aqsa Storm."
"Enough is enough," Deif, who does not appear in public, said in the recorded message, as he called on Palestinians from east Jerusalem to northern Israel to join the fight. "Today the people are regaining their revolution."
Hezbollah congratulated Hamas on Friday, praising the attack as a response to "Israeli crimes" and saying the militants had "divine backing." The group said its command in Lebanon was in contact with Hamas about the operation.
Ismail Haniyeh, the exiled leader of Hamas, said that Palestinian fighters were "engaged in these historic moments in a heroic operation" to defend the Al-Aqsa Mosque in Jerusalem and the thousands of Palestinian prisoners held by Israel.
The serious invasion on Simchat Torah, a normally joyous day when Jews complete the annual cycle of reading the Torah scroll, revived painful memories of the 1973 Mideast war practically 50 years to the day, in which Israel's enemies launched a surprise attack on Yom Kippur, the holiest day of the Jewish calendar.
Comparisons to one of the most traumatic moments in Israeli history sharpened criticism of Netanyahu and his far-right allies, who had campaigned on more aggressive action against threats from Gaza. Political commentators lambasted the government over its failure to anticipate what appeared to be a Hamas attack unseen in its level of planning and coordination.
The attack comes at a time of historic division within Israel over Netanyahu's proposal to overhaul the judiciary. Mass protests over the plan have sent hundreds of thousands of Israeli demonstrators into the streets and prompted hundreds military reservists to avoid volunteer duty — turmoil that has raised fears over the military's battlefield readiness and raised concerns about its deterrence over its enemies.
Asked by reporters how Hamas had managed to catch the army off guard, Lt. Col. Richard Hecht, an Israeli army spokesman, replied, "That's a good question."
Israel has built a massive fence along the Gaza border meant to prevent infiltrations. It goes deep underground and is equipped with cameras, high-tech sensors and sensitive listening technology.
The abduction of Israeli civilians and soldiers also raised a particularly thorny issue for Israel, which has a history of making heavily lopsided exchanges to bring captive Israelis home. Israel is holding thousands of Palestinians in its prisons. Hecht confirmed that "substantial" number of Israelis were abducted Saturday.
Israel has maintained a blockade over Gaza since Hamas seized control of the territory in 2007. The bitter enemies have fought four wars since then. There have also been numerous rounds of smaller fighting between Israel and Hamas and other smaller militant groups based in Gaza.
The blockade, which restricts the movement of people and goods in and out of Gaza, has devastated the territory's economy. Israel says the blockade is needed to keep militant groups from building up their arsenals. The Palestinians say the closure amounts to collective punishment.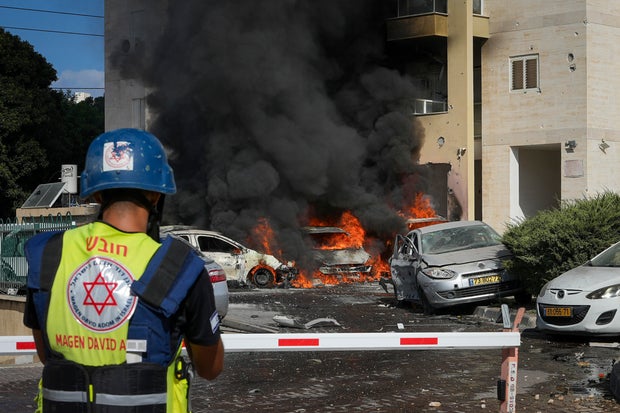 The rocket fire comes during a period of heavy fighting in the West Bank, where nearly 200 Palestinians have been killed in Israeli military raids this year prior to Saturday's attack by Hamas. In the volatile northern West Bank, scores of militants and residents poured into the streets in celebration at the news of the rocket barrages.
Israel says the raids are aimed at militants, but stone-throwing protesters and people uninvolved in the violence have also been killed. Palestinian attacks on Israeli targets have killed over 30 people.
The tensions have also spread to Gaza, where Hamas-linked activists held violent demonstrations along the Israeli border in recent weeks. Those demonstrations were halted in late September after international mediation.
Meanwhile, the Brandenburg Gate in Berlin, Germany, was illuminated with the Israeli flag Saturday in a sign of solidarity with Israel, German Chancellor Olaf Scholz wrote on social media.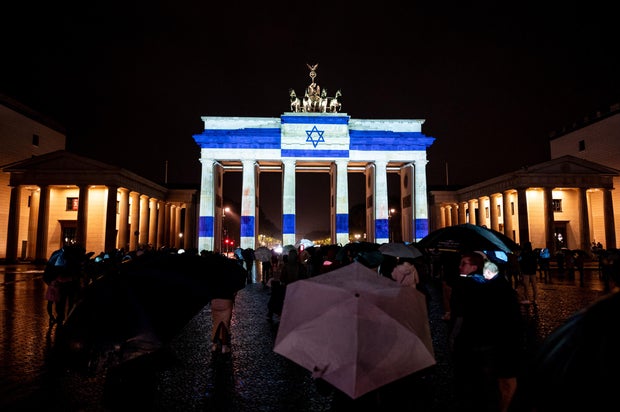 Thanks for reading CBS NEWS.
Create your free account or log in
for more features.
I have been writing professionally for over 20 years and have a deep understanding of the psychological and emotional elements that affect people. I'm an experienced ghostwriter and editor, as well as an award-winning author of five novels.