6-year-old shot teacher at Virginia elementary school, police say
A 6-year-old student shot a teacher during an altercation at a Virginia elementary school on Friday, police said. No students were injured in the incident at Richneck Elementary School, Newport News police said in a statement.
"This was not an accidental shooting," Police Chief Steve Drew told reporters during an evening press conference.
The chief said the teacher, a woman in her 30s, suffered what he described as a life-threatening gunshot wound and was taken to a hospital. The teacher was in stable condition Saturday, according to a spokesperson from Riverside Regional Medical Center.
The boy was taken into custody, the chief said. No one else was involved in the incident, he said.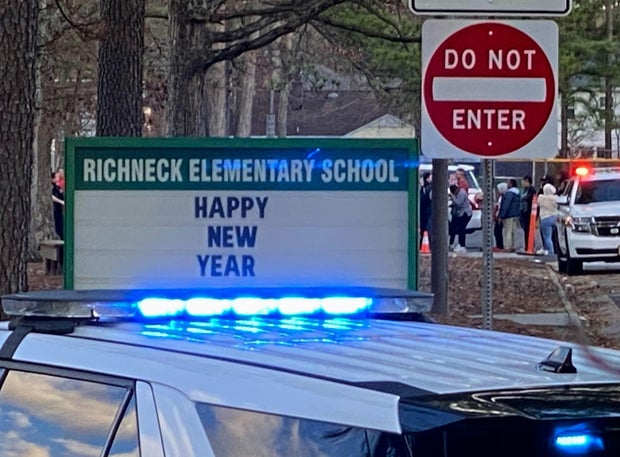 "We have been in contact with our commonwealth attorney and some other entities to help us best get services to this young man," Drew said.
The chief said a handgun was used in the altercation and he wanted to know where it came from.
The shooting was isolated to a classroom at the school, Drew said.
"This was not a situation where we had a student, or any other individuals, going up and down the halls actively firing in a long shooting incident," Drew said.
A police spokesperson said in a statement Saturday Drew had met with the victim and her family, and she has improved. "Because of the ongoing nature of the investigation, we will not be releasing any further information at this time," police said in the statement.
Mayor Phillip Jones said the incident "hurts my heart."
"It's a dark day for Newport News," Jones said. "We're going to learn from this, and we're going to come back stronger."
Schools Superintendent George Parker III said the incident happened in a first-grade classroom.
"Today our students got a lesson in gun violence," Parker said.
"This is terrible," he added. "This is something that should never occur, and I think we're all in shock and we all understand that we have a lot of work to do as a community to make sure things like this don't occur."
Metal detectors are used randomly throughout the school district, Parker said. Classes won't be held at the school Monday.
I have been writing professionally for over 20 years and have a deep understanding of the psychological and emotional elements that affect people. I'm an experienced ghostwriter and editor, as well as an award-winning author of five novels.